The first Delta Air Lines A220 flights are now loaded into the schedule and on sale for travelers. The carrier intends to base the fleet initially at New York City's LaGuardia Airport and serve routes focused on business travelers, with Boston and Dallas-Fort Worth the first two destinations starting 31 January 2019. Over the summer of 2019 as the fleet grows the A220 will also serve Houston, Salt Lake City, Detroit, Minneapolis-St. Paul and JFK.
---
---
The first A220 flight to depart will be DL 917, the 6am departure from LaGaurdia to Boston. Later that day DL 692 (1:59p) and DL 1057 (6p) also show the A220 serving the LGA-BOS route. The return flights from Boston to LaGuardia are DL 744 (8a), DL 793 (12noon), DL 719 (4p) and DL 715 (8p). Presumably one more LGA-BOS flight will transition to the A220 to support the four return flights.
The first DFW flight on the A220 departs LaGuardia at 7:45a as DL 2952, returning at 12:16p as DL 2949. Later in the day the DL 796 (12:15p) and DL 652 (5:29p) departures on LGA-DFW also show the A220 on the schedule. The 7:05a departure from DFW will also be on the A220; not all the A220 trips on 31 January will start at LaGuardia.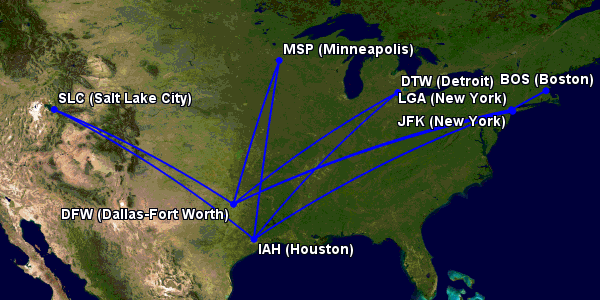 "This aircraft is the culmination of years of listening to our customers and responding with design innovations that continue to improve Delta's domestic in-flight experience," said Tim Mapes, S.V.P.​ and Chief Marketing Officer. "From high-resolution seat-back entertainment screens to the widest Main Cabin seats in our fleet, the A220 will deliver an experience our customers will look forward to every time they fly."
---
---
The A220 features 18.6″ wide seats in economy, the widest in Delta's fleet, along with power and in-seat IFE screens. The IFE is provided through the Gogo Vision Touch product, using consumer-grade tablets at the seat. This is not a new concept but prior attempts to deliver it struggled to meet safety certification requirements. The aircraft also feature Gogo's 2Ku inflight high speed wifi connectivity solution, installed line-fit at the factory in Mirabel, Canada.
Delta is strongly pushing the A220 as a better experience for business travelers and will use the aircraft to target competitors' hubs. Specifically, LaGuardia to Houston and DFW, JFK to DFW and Salt Lake City to Houston are all slated to be fully operated by the A220 going forward. It will take some time for the fleet to support that plan, but Delta publicly stated that intention with the initial schedule release.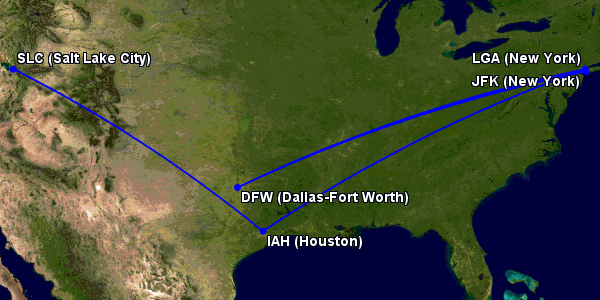 ---
A favor to ask while you're here...
Did you enjoy the content? Or learn something useful? Or generally just think this is the type of story you'd like to see more of? Consider supporting the site through a donation (any amount helps). It helps keep me independent and avoiding the credit card schlock.
---