JetBlue will close two stations and delay two routes as part of its schedule cuts this summer. Another eleven routes will also operate "for at least a portion of the summer season" per a message shared with in-flight crewmembers.
The cuts come as the carrier – like many others – grapples with staffing challenges as it tries to rebound from the past two years of dramatically lower operations tied to COVID-19.
---
---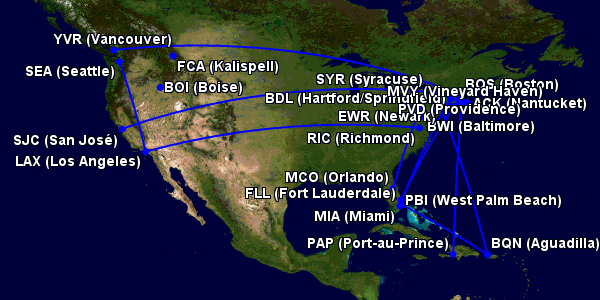 Route Delays
Two markets from Boston will see service delayed by three-four weeks to help the company staff up. Vancouver will now launch service on July 7th rather than June 16th as previously planned. BWI will take a one month delay, restarting on July 8th rather than June 9th.
City Closures
The pandemic drove airlines to experiment wildly with new routes and new markets to serve. For JetBlue that included seasonal service to Boise and Kalispell/Glacier National Park. Neither will return for 2022.
---
---
Limited suspensions
More broadly, JetBlue intends suspension of several routes throughout its network. San Jose, California and Port-au-Prince will be trimmed at Boston, for example. Hartford will lose some service to Miami while Syracuse will see cuts to Orlando and Providence will be trimmed to Palm Beach.
Los Angeles will see Richmond cut, as well as the very competitive Seattle market.
Newark will see flights to Martha's Vineyard and Nantucket trimmed. It will also see some flights to Aguadilla, Puerto Rico removed from the schedule. Fort Lauderdale will also see Aguadilla cuts.
---
A favor to ask while you're here...
Did you enjoy the content? Or learn something useful? Or generally just think this is the type of story you'd like to see more of? Consider supporting the site through a donation (any amount helps). It helps keep me independent and avoiding the credit card schlock.
---