Eleven JetBlue destinations expected to see service resume in October per published schedules. That number now sits at four. Seven Blue Cities will have to wait at least one more month before JetBlue flights resume.
The company cited an "ongoing drop in demand" and "cash preservation efforts" in announcing the decision to employees today.
---
---
The affected stations are:
Baltimore (BWI)
Burbank (BUR)
Newburgh (SWF)
Ontario (ONT)
Palm Springs (PSP)
San Jose (SJC)
Worcester (ORH)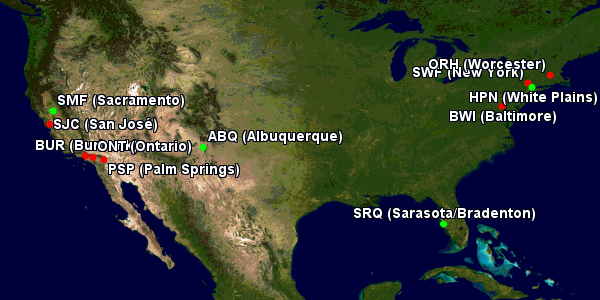 All of these cities saw service dropped earlier this year as the company responded to plummeting demand across its network. And with the CARES Act payroll funding expiring on 1 October the carrier can choose which of these cities to serve without input from the Department of Transportation.
Affected employees have been given the option to work at nearby Blue Cities where feasible. Unpaid leave or a buyout are also options for those employees.
---
---
Four other stations still expect to resume JetBlue flights in October:
Albuquerque (ABQ)
Sacramento (SMF)
Sarasota (SRQ)
White Plains (HPN)
The removed cities are now tentatively slated for resumption of service on 6 November. Pending any signs of demand.
More on JetBlue's efforts to navigate the hell that is this summer:
---
A favor to ask while you're here...
Did you enjoy the content? Or learn something useful? Or generally just think this is the type of story you'd like to see more of? Consider supporting the site through a donation (any amount helps). It helps keep me independent and avoiding the credit card schlock.
---