JetBlue wants to scale back its operations drastically. Faced with reduced demand the carrier is now looking to take advantage of Department of Transportation guidelines that could see the company remove 16 large airports from its network while still remaining compliant with the CARES Act service obligations.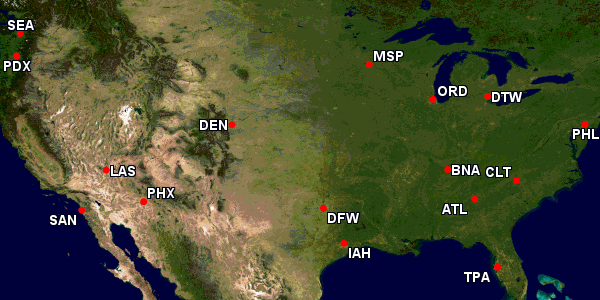 Prompt approval of this exemption request will help ensure that JetBlue is in a post-crisis position to contribute to the country's economic recovery. JetBlue fully intends to gradually resume service to the levels prescribed in the Order at each of these airports as soon as it is both safe to do so and when even the slightest customer demand re-emerges. When this health and economic crisis subsides, a strong and healthy JetBlue will resume its pivotal competitive role in ensuring that travel can resume and U.S. economic links are strengthened.
---
---
Three weeks ago JetBlue asked the Department of Transportation to allow for 11 destinations to be suspended. The company focused on smaller markets where demand approached nil and particularly longer routes, flights more expensive to operate and typically flown less frequently. The DOT denied the initial request, pointing out a need to keep smaller communities connected to the national airspace network. With that guidance in hand JetBlue announced a new route plan over the weekend that would see several destinations served as one-stop trips from a hub.
Then came rulings from the DOT for Frontier Airlines, Sun Country and Cape Air. In these decisions the Department identified a new set of rules. Specifically, larger airports that see significant connecting flow might not need service from every small airline as well. For any "small" carrier (defined as less than 10% of total US enplanements) the Department no longer requires service to major hubs. In its answer Monday morning, denying the bulk of Frontier's broad application, the DOT listed 26 markets that are either a "large hub" (>1% of passenger enplanements) or experience a disproportionally large volume of connecting traffic. Sun Country's request covered many of these markets and was approved. JetBlue now hopes for the same.
The revised application seeks to suspend service at:
ATL Hartsfield Jackson Atlanta International Airport
CLT Charlotte Douglas International Airport
ORD Chicago O'Hare International Airport
DFW Dallas/Ft. Worth International Airport
DEN Denver International Airport
DTW Detroit Metro Airport
IAH George Bush Intercontinental Airport
LAS McCarran International Airport
MSP Minneapolis – St. Paul International Airport
BNA Nashville International Airport
PHL Philadelphia International Airport
PHX Phoenix Sky Harbor Airport
PDX Portland International Airport
SAN San Diego International Airport
SEA Seattle-Tacoma International Airport
TPA Tampa International Airport
JetBlue details the low loads for these destinations in its briefing, noting that even with significant capacity cuts the carrier frequently sees load factors well below 10%. Only Tampa (15%) and Philadelphia (19%) have averaged higher for April. At the low end, Minneapolis-St Paul comes in with a 3% load factor for the month.
JetBlue also calls attention to the DOT's willingness to allow for reduced service where only larger aircraft can be used, flying 2000+ miles to reach a destination. While the DOT has generally applied this rationale for allowing reduced service to Hawaii, JetBlue points out that its service to Portland typically operates as a transcon, only a couple hundred miles different from the Hawaii flights. And it similarly cannot down-gauge while still operating the trip.
Should the Department apply the ruling evenly it appears that JetBlue will be able to drop more destinations than it initially hoped for. That means an even lower cash burn as the company tries to ride out the crisis. But it would also mean keeping the flights to smaller markets, some of which had converted to one-stop trips.
---
A favor to ask while you're here...
Did you enjoy the content? Or learn something useful? Or generally just think this is the type of story you'd like to see more of? Consider supporting the site through a donation (any amount helps). It helps keep me independent and avoiding the credit card schlock.
---