In October 2006 Air New Zealand dropped its service from Christchurch to Los Angeles, continuing to London, removing the only non-stop connection between New Zealand's South Island and the USA. In October 2020 that link will be restored by American Airlines. The seasonal service will operate thrice weekly from October 25, 2020 through March 24, 2021 on the westbound flights. Eastbound dates run two days later.
American will also add service from its hub at Dallas-Fort Worth to Auckland in October 2020, starting at 3x weekly and expanding to daily in December. That service will also run to the end of March 2021. The seasonal service launched last year between LA and Auckland will start three weeks earlier in 2020, giving travelers an additional option to the South Island starting from 7 October 2020.
The South Island is a must-see for any international visitor to New Zealand. Thanks to the new nonstop flights from Los Angeles to Christchurch and Dallas-Fort Worth to Auckland, it's is now easier than ever before to experience all that unique and welcoming New Zealand has to offer.

– Stephen England-Hall, Tourism New Zealand's Chief Executive
---
---
The new routes and expanded service launch in conjunction with the recently approved joint venture between American and Qantas for service between the USA and Oceania. These new routes join flights announced by Qantas from Brisbane to San Francisco and Chicago, both announced earlier this year after the JV was approved by regulators. In both cases the carriers will codeshare on each other's flights, as well as coordinate schedules and pricing for the new service. Travelers looking to extend a trip beyond New Zealand will be able to easily pair a trans-Tasman hop across to Australia with Qantas (though many services are also operated by Qantas subsidiary JetStar, confusing the market) and return to the United States via either airline.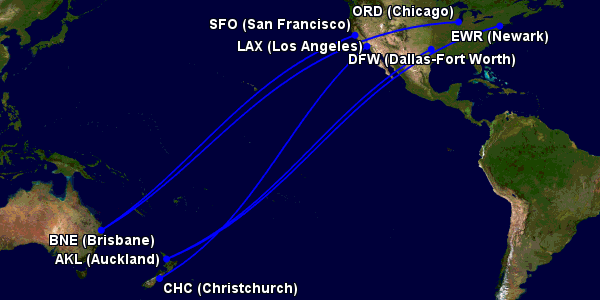 The South Island sums up everything that our customers are looking for in New Zealand — adventure, culture and wildlife found no where else. We want to make their lifelong dreams a reality and bring New Zealand's beauty even closer as the gateway to the South Island where you can drive, hike, cruise and fly to a variety of classic New Zealand experiences.

– Vasu Raja, American's Senior Vice President of Network Strategy
The new routes also come at the same time as Air New Zealand intends to launch nonstop service from Auckland to Newark. That new route also takes advantage of a joint venture business arrangement with an alliance partner, in this case United Airlines.
---
---
The growing breadth of routes and connecting opportunities in the region should bode well for passengers, even with several of the flights operating less than daily frequencies.
For tourists direct access to the South Island opens up significant potential for new itineraries, saving a half day in each direction on the connection via Auckland. While the city of Christchurch continues to rebuild following the massive earthquake that decimated the city in 2011 the region remains a spectacular draw and jumping off point for exploring the natural beauty of the South Island.
---
A favor to ask while you're here...
Did you enjoy the content? Or learn something useful? Or generally just think this is the type of story you'd like to see more of? Consider supporting the site through a donation (any amount helps). It helps keep me independent and avoiding the credit card schlock.
---