Passengers on China Airlines' new A321neo fleet can access high speed internet service in the sky. The carrier selected SITA to deliver its Internet ONAIR product on board, backed by Inmarsat's GX Aviation satellite network.
We are delighted to welcome China Airlines as our latest GX Aviation inflight broadband customer, especially at a time when the carrier is welcoming millions of its passengers back to the skies.

– Niels Steenstrup, Inmarsat Aviation's Senior Vice President of Inflight Connectivity Business
---
---
The in-flight WiFi solution allows China Airlines customers to seamlessly browse the internet, stream video and audio, shop online, and catch-up with work.
China Airlines has ordered a total of 25 Airbus A321neos as part of a narrow-body fleet replacement program. All of the aircraft will be equipped with Inmarsat's GX Aviation and SITA's Internet ONAIR, alongside other new cabin features such as fully-flat seats in Premium Business Class, the latest inflight entertainment system, and 4K high-solution displays.
GX Aviation will enable the airline to meet soaring demand for inflight connectivity as passengers return to the skies following the Covid-19 pandemic. Inmarsat's latest Passenger Confidence Tracker, the largest global survey of its kind since the pandemic began, found that 41% of the 10,000+ respondents believe having Wi-Fi on flights is even more important now than before Covid-19, allowing them to stay connected with friends and family, and supporting a touch-free environment.
---
---
Katrina Korzenowski, Asia Pacific Vice President at SITA FOR AIRCRAFT, notes, "Providing a digital and touchless onboard experience will be the key to increasing passenger confidence as air travel recovers from the Covid-19 pandemic. Our Internet ONAIR technology, coupled with Inmarsat's GX Aviation connectivity, offers China Airlines the perfect blueprint for a world-class inflight broadband offering onboard its Airbus A321neo aircraft and we're proud to be working together to achieve this. It also means that SITA is now providing a full suite of services, from cockpit to cabin, to China Airlines."
China Airlines launched service on the A321neo over the weekend, with a flight from Taoyuan to Hong Kong. By mid-Summer, with additional aircraft deliveries, the carrier expects to operate the type to more than a dozen destinations across its regional network, per Cirium route data.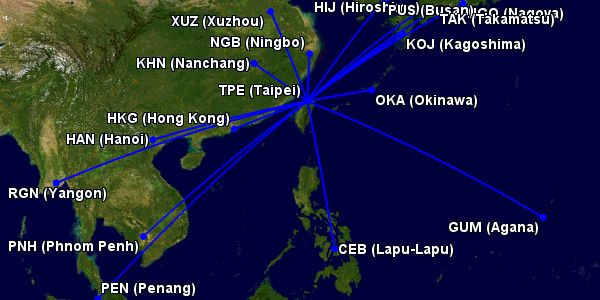 ---
A favor to ask while you're here...
Did you enjoy the content? Or learn something useful? Or generally just think this is the type of story you'd like to see more of? Consider supporting the site through a donation (any amount helps). It helps keep me independent and avoiding the credit card schlock.
---