Delta Air Lines plans to add more than 20 new codeshare routes in Europe, partnering with Air Baltic. The move, if approved by regulators, will see Delta's DL code applied to flights from 16 European cities to Air Baltic's three hubs at Riga, Tallinn, and Vilnius.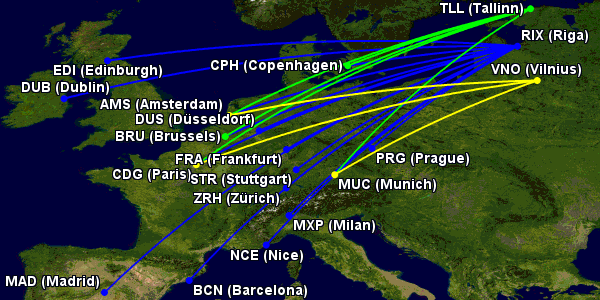 ---
---
In addition to these specific routes, Delta requests that the authorization extend on a "blanket" basis to any other markets where the US has open-skies authorities.
Delta Air Lines did not respond to a request for comment regarding whether the new codeshare flights would be eligible for earning or redemption in the SkyMiles loyalty program. notes in a statement that once the codeshare is approved "the two airlines will review opportunities for elite reciprocal loyalty benefits for members traveling with either airline."
---
---
The companies also include the full codeshare contract, albeit with sensitive bits redacted, in the filing.
---
A favor to ask while you're here...
Did you enjoy the content? Or learn something useful? Or generally just think this is the type of story you'd like to see more of? Consider supporting the site through a donation (any amount helps). It helps keep me independent and avoiding the credit card schlock.
---