Spirit Airlines was one of the first carriers to request a limited schedule from the Department of Transportation as the CARES Act service obligation requirements took effect. Things did not go well from that ask, with the DOT essentially rejecting all of it. In the intervening days, however, other airlines received more generous results. And Spirit still wants its exemptions. The company appealed to the Department late today, asking again for certain destinations to be removed from its obligations.
In light of the Department's recent Cape Air decision, Spirit submits this exemption request for six points, where current traffic levels may make continued service even at the levels permitted under Order 2020-4-2 unsustainable without excessive losses. All six points are large hubs as listed in footnote 5 of the Cape Air decision. Four were also included in the Sun Country application and approved in the Department's corresponding decision dated April 25, 2020.
---
---
In its revised request Spirit hopes to exclude only six destinations from its route network, again citing "it is not 'reasonable or practical' for Spirit to operate" into the markets, using the language of the CARES Act in hopes of persuading regulators. Beyond the financial implications, however, is the limited value Spirit brings to those markets, a fact the airline actively highlights. The airports in question are:
Charlotte (CLT)
Denver (DEN)
Minneapolis/St. Paul (MSP)
Phoenix (PHX)
Portland, OR (PDX)
Seattle (SEA)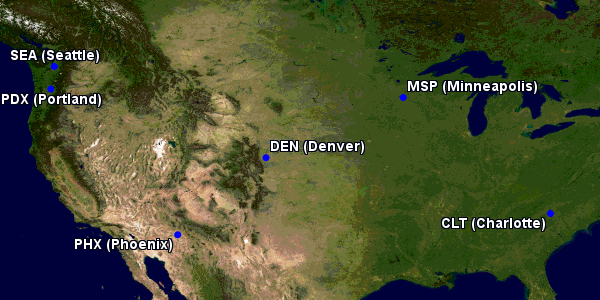 Five of the six airports in question are a hub for at least one carrier. Two of them serve as a hub for two airlines and another operates as a hub for three different carriers. Spirit's largest market share of the six is only 3.3% at Minneapolis/St. Paul, while it drops below 1% of the market at Charlotte and Phoenix, two major American Airlines hubs. Almost no passengers connect through these six airports on Spirit and no onward destinations would be eliminated.
Also of note is that Charlotte, Seattle, and Portland (and maybe Phoenix) are currently slated for service as part of triangle routes by the carrier. Demand is expected to be so low that the airline is combining them in pairs on a single plane to reduce waste.
---
---
Most important, however, is that the DOT appears to have a new set of rules in place. For any "small" carrier (defined as less than 10% of total US enplanements) the Department appears to be relaxing the rules around service to major hubs. In its answer Monday morning, denying the bulk of Frontier's broad application, the DOT listed 26 markets that are either a "large hub" (>1% of passenger enplanements) or experience a disproportionally large volume of connecting traffic. Based on answers related to Cape Air, Frontier and Sun Country, it now appears the DOT will allow small airlines to remove those 26 airports from their route network and remain CARES Act compliant. The six requested by Spirit today are all in the list.
Beyond the precedent set with Cape Air, Frontier and Sun Country, Spirit also appeals to the DOT's mission to serve the public interest:
Spirit is a small low fare carrier, with approximately 4% share of the domestic market and miniscule market share for the points identified in this request. Its survival through the pandemic is critical to meeting the needs of many travelers during the economic recovery. It's "Spirit effect" on keeping fares down in well documented. Requiring Spirit to continue to operate to these cities during a period of almost zero demand is against the public interest as it wastes scarce financial resources while adding virtually nothing to these points' access to air transportation.
Spirit needs to survive because its low fares are good for travelers. That part of the argument did not sway the regulators last time around, but putting it back in the filing likely won't hurt the claim.
After all, the DOT would be in a tough position were it to pick and choose which airlines qualify for these exemptions with anything other than a consistent set of rules. And the rules now favor Spirit's request.
---
A favor to ask while you're here...
Did you enjoy the content? Or learn something useful? Or generally just think this is the type of story you'd like to see more of? Consider supporting the site through a donation (any amount helps). It helps keep me independent and avoiding the credit card schlock.
---