If the planes are going to be mostly empty it is better to fly fewer of them. For Spirit Airlines this means sending some of its smaller jets on triangle routes, connecting two cities before retuning to a hub. The new service pattern appears planned through the next month or two, depending on the route, based on schedule details reviewed online.
---
---
As part of the Payroll Support Program funding grant from the CARES Act airlines are required to maintain service to all markets served prior to the pandemic. Several airlines accepted those terms, hoping that the Department of Transportation would be lenient with its interpretation of the phrase "reasonable and practicable" granting exceptions for routes that have near zero demand. The DOT has shown little leniency so far and now the airlines are reacting. JetBlue will fly a number of "tag" flights through its network. So will Alaska Airlines. Spirit is choosing a slightly different approach, operating the routes as triangles rather than returning via the middle hop.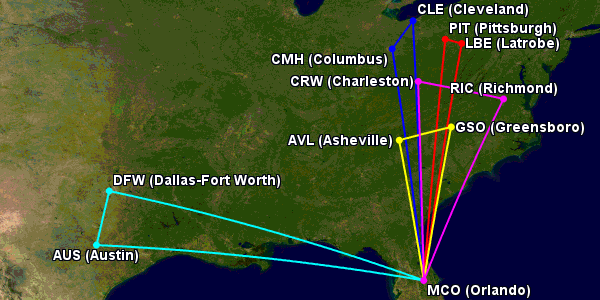 ---
---
The airline initially applied for waivers to remove 26 airports from its network. Only one of those – Aguadilla, PR – was approved. Of the others, more than half transition to operate with these triangle routes. Among them:
Via Orlando:

Pittsburgh and Latrobe, PA are paired up
Cleveland and Columbus, OH
Asheville and Greensboro, NC
Austin and Dallas, TX
Richmond, VA and Charleston, WV

Via Fort Lauderdale:

Raleigh and Charlotte, NC
Plattsburgh and Niagra, NY
St. Thomas and St. Croix, USVI

Via Las Vegas:

Oakland and Sacramento, CA
Seattle, WA and Portland, OR

Via Chicago:

Jacksonville and Fort Myers, FL
At that time a guess of possible triangle routes proved not entirely inaccurate: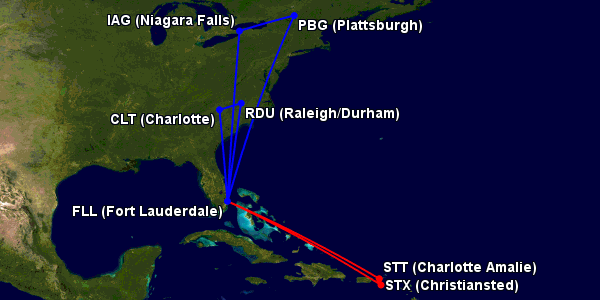 At just 46 miles there is no doubt that the Latrobe-Pittsburgh route is a waste of time and fuel. But it will now also be a new shortest flight for the carrier. So at least there's that.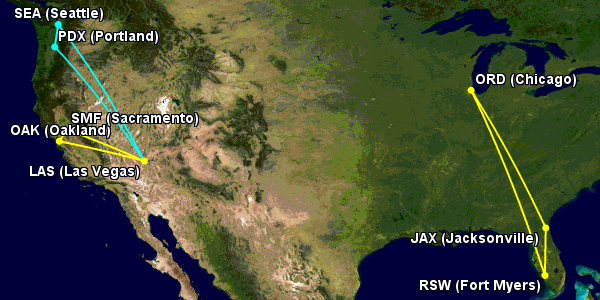 ---
More on COVID-19 and the airlines affected
---
A favor to ask while you're here...
Did you enjoy the content? Or learn something useful? Or generally just think this is the type of story you'd like to see more of? Consider supporting the site through a donation (any amount helps). It helps keep me independent and avoiding the credit card schlock.
---