Miami International Airport is the place to be as air travel recovers in the United States, and Spirit Airlines will not be left out. The carrier announced a massive expansion into the market, with plans for up to 30 daily flights to 30 destinations. The new operations are expected to launch on October 6, 2021, with destinations added over a six week period.
The growth will not hinder further expansion at the carrier's main hub in Fort Lauderdale, according to Spokesman Field Sutton. He notes that strong demand exists throughout South Florida and that "Our flying out of MIA is in support of continued expansion in the region." To that end the carrier also expects to further grow its position as the leading carrier in Fort Lauderdale, exceeding 100 daily flights in July.
---
---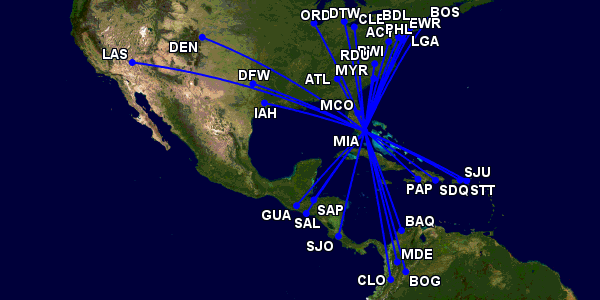 The route network offers only one market – Atlantic City – where Spirit will be the sole operator. Diving in to a market with significant competition is not necessarily typical for the airline, but it sees access to the Miami market as worth that risk.
Spirit is starting relatively light on flight frequencies, choosing breadth of coverage and mostly daily service to the destinations. A handful of international destinations will see less than daily flights while LaGuardia is the sole destination planned for double daily flights.
---
---
Multiple major moves at Miami
For Miami the new new carrier and routes continues a streak of service additions. Spirit joins Southwest Airlines and JetBlue in adding domestic service at Miami. Emirates also announced it will return to South Florida this summer at MIA rather than Fort Lauderdale.
Pandemic-induced reduced operations, freeing up gate and runway capacity, certainly weigh in to the ability for the airport to attract new service. AirlineWeekly also reports that the airport restructured its costs to airlines, making it more affordable for carriers to establish and operate service in Dade County.
Exact details on the flight schedules and pricing will be released once the airport approves gate and counter access details.
---
A favor to ask while you're here...
Did you enjoy the content? Or learn something useful? Or generally just think this is the type of story you'd like to see more of? Consider supporting the site through a donation (any amount helps). It helps keep me independent and avoiding the credit card schlock.
---