United Airlines will go big when it begins its CRJ550 operations at the end of the month. The airline announced today that the new planes will initially serve 15 destinations from its Chicago O'Hare hub. Flights begin on October 27th with tickets on sale beginning this Saturday, October 12th.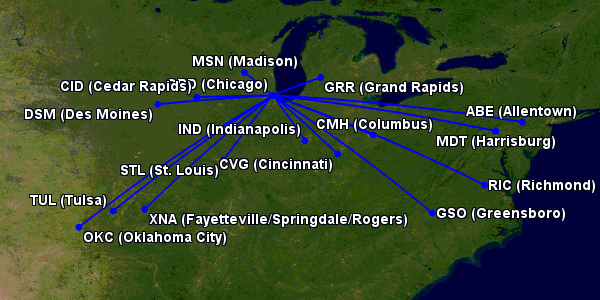 ---
---
Initial destinations for the reconfigured planes include:
Allentown, Pennsylvania (ABE)
Bentonville, Arkansas (XNA)
Cedar Rapids, Iowa (CID)
Cincinnati (CVG)
Columbus, Ohio (CMH)
Des Moines, Iowa (DSM)
Grand Rapids, Michigan (GRR)
Greensboro, North Carolina (GSO)
Harrisburg, Pennsylvania (MDT)
Indianapolis, Indiana (IND)
Madison, Wisconsin (MSN)
Oklahoma City (OKC)
Richmond, Virginia (RIC)
St. Louis, Missouri (STL)
Tulsa, Oklahoma (TUL)
Those routes represent approximately 75 departures from O'Hare on the 27th. Roughly a third currently are scheduled on 50-seat aircraft. Presumably only the 50-seat operations will change over, though other shifts are possible.
Additional routes will be added over the coming weeks from United hubs at Chicago, Newark and Washington Dulles.
The routes range from 109 miles (Madison) to 693 (Oklahoma City) and average 401. For most passengers that means about an hour on board with the more spacious layout. United promises the most legroom of any 50 seat config in the USA, as well as space on board for all the carry-on bags that typically don't fit on the smallest regional jets.
As originally promised, the aircraft offers 10 first class seats, 20 Economy+ and 20 regular economy, retrofit into a space that previously held 70 passengers. All passengers have access to in-seat power ports, another exclusive on the type. The ERJ-175 also has power on board but only for the first class cabin. The CRJ550 will also be the only sub-70 seat regional jet in the US market with inflight connectivity (though that will change soon-ish, as JetSuiteX goes online with SmartSky). The CRJ550 carries Gogo's ATG-4 wifi kit on board.
First class passengers can access a self-service "pantry" with snacks and drinks on the flights long enough for the seatbelt sign to be turned off.
---
---
To accomplish this large rollout United has been working with GoJet to get multiple aircraft converted. Based on tracking of the fleet it appears that 6-8(ish) of the CRJ550s will be available to enter service on the 27th. And as these planes are being converted the company is bringing more ERJ-175s into the fleet. United faces a cap on larger regional jets based on its pilot contract and the CRJ550 project helps shift those numbers around.
It also helps United push the CRJ200 out of many markets. The smaller 50-seat commuter jet is loathed by most travelers and United has previously acknowledged that it is a poor experience. But it also was what the carrier could get quick and cheap.
---
A favor to ask while you're here...
Did you enjoy the content? Or learn something useful? Or generally just think this is the type of story you'd like to see more of? Consider supporting the site through a donation (any amount helps). It helps keep me independent and avoiding the credit card schlock.
---