US airlines can, once again, operate commercial flights to nine smaller airports in Cuba. Significant restrictions on charters are also gone. The moves reverse US diplomatic policy from 2019-2020.
The restoration of commercial air traffic rights between the US and Cuba in 2016 included access to nine smaller airports across the island nation. In 2019, however, then-Secretary of State Michael R. Pompeo requested then-Secretary of Transportation Elaine L. Chao to restrict access to those markets, ostensibly to apply pressure on the Cuban government.
---
---
As a result, in October 2019 commercial flights to the smaller airports were blocked. Three months later, in January 2020, charter operators were blocked from operating to those markets. In August 2020 further limits were placed on the number of charter flights that could operate to Havana.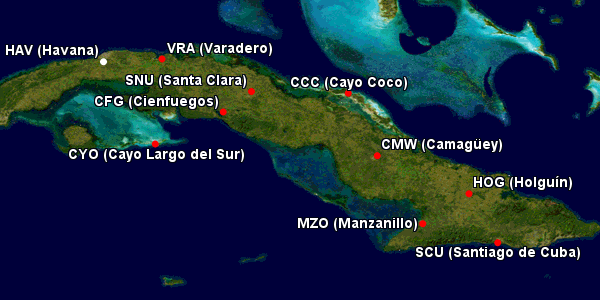 By letter dated May 31, 2022, Secretary of State Antony J. Blinken wrote to Secretary of Transportation Pete Buttigieg, requesting the blocks be lifted:
Consistent with Administration measures announced May 16 in support of the Cuban people, and in the foreign policy interests of the United States, I respectfully request the Department of Transportation terminate all civil aviation restrictions on flights between the United States and Cuba implemented at the previous request of the U.S. Department of State in letters dated October 25, 2019; January 7, 2020; and August 13, 2020.
---
---
An early "gold rush" mentality around access to commercial flight slots in Cuba led eventually to a more reasonable and stable level of operations. While the option to operate the flights now exists once again, it is unclear how aggressive airlines will be in restoring the services. The level of demand remains unclear.
US-Cuba tourism remains prohibited by US authorities. Moreover, since June 2019 the "people to people" exemption to that rule, most commonly used by individual visitors to skirt US regulations, has not been available. Whether that returns depends on further diplomatic jockeying.
Charter pros and cons
The removal of caps on charter frequencies also changes a significant dynamic around startup airlines in the US. Global Crossing X, in particular, had been jockeying for access to more charter slots so it could operate flights on behalf of organizers in Florida. With the caps lifted, the fight over those scarce slots disappears.That should be good news for the upstarts, as they can now run the flights without limits.
But the potential return of more commercial air service will likely counter that optimism. The 2016 flood of commercial flights brought tremendous pressure to the charter market, depressing demand for those more limited services. Another round of commercial service growth could deliver a similar blow.
The full DOT order can be found here.
More on the US/Cuba flight history:
---
A favor to ask while you're here...
Did you enjoy the content? Or learn something useful? Or generally just think this is the type of story you'd like to see more of? Consider supporting the site through a donation (any amount helps). It helps keep me independent and avoiding the credit card schlock.
---