Upstart Taiwanese carrier Starlux plans to fly early in 2020 and finally unveiled details on its first aircraft configuration. With a concept dubbed "JX Style" the first A321neo planes are poised to deliver a high-end product at affordable prices, assuming founder K.W. Chang can pull it off. The new aircraft interiors and uniforms are swanky, but is this another experiment in misunderstanding the costs of operating an airline?
Being high-end and luxurious is not about the price tag, but rather an attitude, a standard embedded in our brand. We will always be at the forefront of safety and quality service to achieve operational excellence and to perform beyond each passenger's expectations in every detail.

– Starlux CEO and Founder K.W. Chang
---
---
The carrier's first routes will operate on the A321neo, with A350 deliveries to follow in 2021. The ten single-aisle planes will cover routes into northeast Asia, with a heavy focus on Japan. And the aircraft interior should have passengers flying comfortably along the way. BMW's Designworks studio managed the seating design for the carrier.
The first two rows of the plane will be fitted with the Collins Aerospace Diamond seat, offering a 78″ lie-flat bed option in a 2-2 layout. No direct-aisle access is a small potential drawback but given the small number of seats being fitted and the fuselage diameter this is likely the best option on the market today. It will also compete in markets where the other carriers are generally flying recliners. The seats include a 15.6″ HD (1080p) screens from Safran Aerosystems for the embedded inflight entertainment solution.
The 180 economy class seats each include a 10.1″ 720p screens and USB power ports. At that seating density passengers should find plenty of legroom available as well.
---
---
The carrier will also offer inflight wifi connectivity on its planes. It claims a "basic access" version will be offered to passengers for free "to make the journey as convenient and pleasant as possible." The company announced a deal with SITAONAIR to install the Link ONAIR service powered by Inmarsat's GX Aviation solution at Aircraft Interiors Expo 2019 in Hamburg earlier this year.
Other small touches of luxury include hand lotion in the economy class lavatories and a custom fragrance "Home in the Air" developed especially for the airline and to be featured on board, at the check-in counters, in the lounges, on the hot towels for business class passengers and at other touch points throughout the journey. The final scent was selected in a vote by employees, and features "notes of various woods and leather…while the aromas of iris and violets conspire to create a calm and soothing cabin environment."
The Luxury Airline Model
The airline world is, generally speaking, split between legacy operators and LCCs today. Especially in Asia. The idea of bringing a new "Value Carrier" into the market with premium services and hoping to extract higher fares from passengers as a result is spectacularly rare. But that's precisely what Starlux aims to deliver. Taiwan's location and the stage lengths for many of the flights might help drive that value proposition, but also maybe not.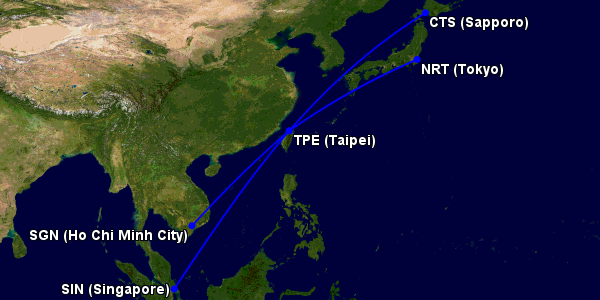 Initial flights are expected to serve Japan. Sapporo's New Chitose Airport (CTS) is about as far as one can get into Japan from Taiwan and that route clocks in at just 1,685 miles. Block time comes in around 4 hours for the three other carriers flying that route, suggesting that the flat bed is more of a gimmick than a necessity for business travelers willing to pay the premium to ensure arriving rested at the destination. Singapore is only a slightly longer trip, still under 2,000 miles and under 5 hours block time. Will the demand – and revenue – materialize?
The carrier does plan for long-haul services eventually with its A350 fleet. That segment can occasionally deliver higher yields for the premium traffic and the onward connections in a nicer product will help. Still, Starlux will face a pair of strong local competitors in EVA and China Airlines, plus the many other Asian airlines offering connectivity on longer routes through the region. Again, fares are going to be a critical factor in attracting passengers, far more than delivering a signature scent on board.
The first A321neo delivery is expected at the end of October, with passenger service to commence in early 2020.
---
A favor to ask while you're here...
Did you enjoy the content? Or learn something useful? Or generally just think this is the type of story you'd like to see more of? Consider supporting the site through a donation (any amount helps). It helps keep me independent and avoiding the credit card schlock.
---