Azul is jumping in to one of the busiest domestic airline markets in the world in a big way. The Brazilian carrier will launch "shuttle" service between the airports of Congonhas in São Paulo (CGH), and Santos Dumont in Rio de Janeiro (SDU) on 29 August 2019. The airline plans up to 34 daily operations between the two airports.
Azul is far from alone in the market. LATAM and GOL offer some 50 daily flights already between the two airports, making it the fourth busiest route in the world by aircraft movements. The total number was higher until Avianca Brasil's recent collapse led to a number of slots being abandoned. Regulators reallocated those slots at the end of July and Azul will begin flights at the end of August.
---
---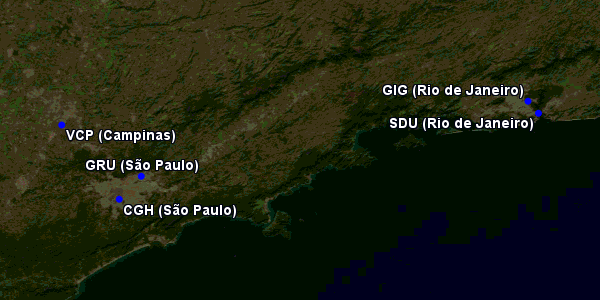 Beyond the new flights, Azul will continue to operate significant frequencies on its other routes connecting the two cities. Both sides of the route offer multiple airports, though the CGH-SDU version offers the best connections to the city center at both ends. Azul has 20 additional flights between the cities. LATAM and GOL add a similarly sized set of additional services. It is a busy market, but one that appears to support the significant traffic volume without much trouble.
Indeed, restoring part of the now missing Avianca Brasil capacity is unlikely to significantly alter the economics of the market. That makes it a compelling and likely profitable addition for Azul, even launching service on short notice. While most airlines prefer several months of advance time to sell tickets for a new route launch this new business shuttle for Azul has just two weeks to ramp up.
---
---
---
A favor to ask while you're here...
Did you enjoy the content? Or learn something useful? Or generally just think this is the type of story you'd like to see more of? Consider supporting the site through a donation (any amount helps). It helps keep me independent and avoiding the credit card schlock.
---