Total flights down by 40%. Passenger count down by 90%. Load factor for the month of just 8%. Needless to say, Cape Air's statistics for April 2020 are pretty awful, just like the rest of the aviation world. But the airline has some potential good news to consider as it looks to a slow summer and beyond.
We're going to learn from this. We're going to go on from it. But we're not going to go on by turning the clock back 100 years to when we weren't connected. We're going to figure out how to connect to each other in ways that are safe but equally meaningful.

– Cape Air CEO Dan Wolf
Fleet Refresh Continues
The introduction of the Tecnam P2012 into commercial service in February went very well and Cape Air remains optimistic on its future in the fleet. The carrier is up to nine of the type now in its fleet an still expects to have 20 on property by the end of 2020. The carrier just passed back above 300 passengers on a single day, a nice milestone to surpass, but CEO Dan Wolf notes in an interview with AirInsight "we should be flying between 1,500 and 2,000 passengers a day, so that still means we're down over 80%."
The carrier also notes that it continues to work with Tecnam "to make adjustments and improvements as needed." Cape Air expects that the type will "continue to evolve to be an even greater aircraft in the months and years ahead." The carrier specifically notes speed, payload and fuel efficiency as three areas it expects to see improve over time.
---
---
A PreCheck win
Cape Air's participation in the TSA PreCheck program is of limited value for passengers connecting onwards at Boston on a non-JetBlue flight. Turns out there were systems limitations related to passing the PreCheck data through from the Amadeus operations back-end to partner carriers. The carrier and Amadeus cooperated to update its services, now allowing for PreCheck status to carry through to the onward boarding pass and reservation details.
Short-term Outlook
With CARES Act funding secured and exemption from operating to New York City, Cape Air has at least some help in making it through the summer without significant staffing changes. But 8% load factors are not going to help any airline stay in business for long.
But Cape Air might get a boost thanks to action – and inaction – from one of its larger airline partners, JetBlue.
Yesterday JetBlue announced it would not resume its seasonal service to Portland, Maine (PWM). Cape Air also serves Portland from its Boston hub, including offering interline service with JetBlue, and operating out of the JetBlue terminal area. Without the JetBlue jet service operating some of those passengers could flow through to the Cape Air connection.
Moreover, with the schedule changes slated to load this weekend for JetBlue there are unconfirmed reports that Cape Air could add connectivity to other small JetBlue destinations near Boston. These flights would operate specifically to allow JetBlue to meet the CARES Act requirements of maintaining service in smaller markets while also drastically reducing costs by flying an empty Cessna 402 rather than an empty Embraer E190 or Airbus A320. Worcester was suggested as one likely market (yes, really, ORH-BOS) while Albany, NY (ALB) or Hartford, CT (BDL) could also potentially work. That would be a very creative approach to the service obligation requirements, even as the airlines continue to negotiate with the DOT in reducing the mandated flight levels.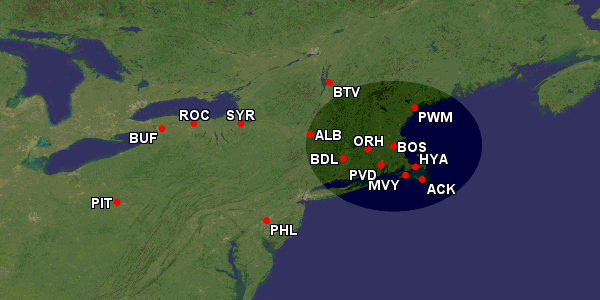 Long-term Outlook
What is the longer range view for Cape Air? After September the answer is very, very unclear.
Wolf believes there is pent up demand, "not just for individuals to travel and go to new places… but because [Americans] have built up that network over the past decades and generations of really relying on that mobility to have the diversity and inclusion and global economy that is the future."
How that translates into passenger bookings remains to be seen, especially as Cape Air serves many smaller airports, the types of market that are not expected to see a quick bump in demand.
---
A favor to ask while you're here...
Did you enjoy the content? Or learn something useful? Or generally just think this is the type of story you'd like to see more of? Consider supporting the site through a donation (any amount helps). It helps keep me independent and avoiding the credit card schlock.
---