With approval to reduce service to as many as 16 airports in its network JetBlue is taking a measured approach. The carrier will suspend service to six of these airports beginning next week through the end of June. The move covers Chicago (ORD), Dallas/Ft Worth (DFW), Houston (IAH), Minneapolis/St Paul (MSP), Philadelphia (PHL) and Portland (PDX), according to an internal memo reviewed by PaxEx.Aero.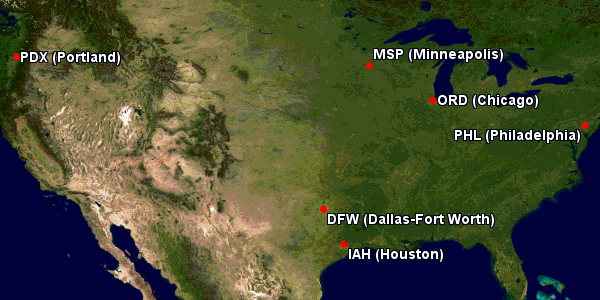 ---
---
The carrier will also reduce scheduled flights in some of the other 16 cities (SEA, SAN, LAS, PHX, DEN, DTW, BNA, TPA, ATL, CLT), with the specifics to go live over the weekend. With the new plans in place the carrier intends to decrease flying in June by roughly 70% compared to the original plan. This compares to a 90% cut in May.
The changes also affect several of the planned planned "tag" flights JetBlue intended to operate to maintain compliance with the DOT requirements for CARES Act Payroll Support Program Funding.
Limited International Service
JetBlue intends to keep its international route network "almost non-existent" for the month, mostly tied to "strict quarantines or border closures in place that make air travel virtually impossible."
Still, the carrier intends to operate limited service on eight routes this month:
Fort Lauderdale–Nassau
JFK-Cancun
JFK-Santo Domingo
JFK-Santiago
JFK-Providenciales
Orlando-Cancun
San Juan-Santo Domingo
San Juan-Punta Cana
---
---
Delayed openings of new Blue Cities
The carrier will further delay the launch of service for three cities in the network. Portland, Maine was originally planned for Summer seasonal service. That will not operate in 2020. Two new routes to Georgetown, Guyana (GEO) and Guatemala City, Guatemala (GUA) were previously postponed to October 2020. The carrier now intends to launch them no earlier than Spring 2021 as par of a plan to preserve cash, "weather this crisis and come out the other side a strong competitor."
Pushing for more exemptions
Finally, JetBlue filed an additional application for route exemptions on Wednesday, seeking to suspend service at five smaller airports in the Western portion of the United States. While the DOT has thus far been hesitant to allow for suspension in smaller markets and previously denied the requests for Albuquerque (ABQ), Bozeman (BZN), Palm Springs (PSP), Reno (RNO), and Sacramento (SMF), this time JetBlue came armed with letters of support from local officials asking the DOT to approve the request.
And the carrier did not mince words in the application, pointing out that passengers, the airline and local authorities almost certainly know better than the Department what is necessary under the "reasonable and practicable" guidelines of the CARES Act:
If JetBlue, airports, local communities, and elected officials are all aligned on a narrow, discrete exemption request which has outsized implications during a national emergency, there is no reason or justification for DOT to second-guess this wide spectrum of stakeholders and mandate compulsory, near-empty transcon flying during this crisis that is at odds with the congressionally-mandated "reasonable and practicable" standard
---
A favor to ask while you're here...
Did you enjoy the content? Or learn something useful? Or generally just think this is the type of story you'd like to see more of? Consider supporting the site through a donation (any amount helps). It helps keep me independent and avoiding the credit card schlock.
---