Put another four Caribbean dots on the Frontier Airlines route map. After promising last month that more sun and surf destinations are coming the carrier delivered, boosting its plans for the upcoming winter.
Today's announcement marks one of our largest international expansions ever and we are thrilled to now offer our customers affordable service to four more popular destinations offering both sun and fun.

– Daniel Shurz, senior vice president of commercial, Frontier Airlines
---
---
In November 2021 the carrier will add service to Liberia, Belize City, and Antigua & Barbuda from the rapidly expanding Orlando hub. In December they will be joined by Turks & Caicos. Belize will also receive flights from the company's home base at Denver. All routes will fly 1x weekly, except for Liberia which will operate twice weekly.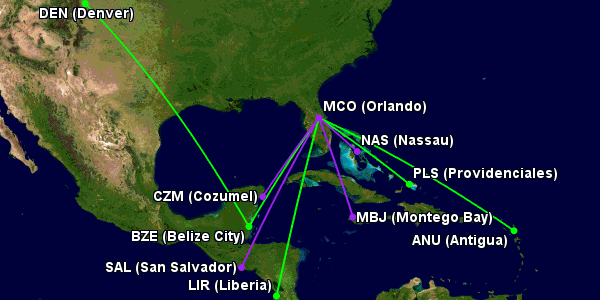 Complementing the new destinations are expanded service from Orlando to existing Frontier markets at Nassau (4x weekly), Montego Bay (3x), Cozumel (1x), and San Salvador (2x).
Introductory fares on these new routes range from $69-99 leaving the US. Return fares are higher, generally owing to the increased taxes associated with those international departures.
The carrier previously disclosed that margins on its Caribbean routes exceed those in other markets. Growing into this segment is part of a long-term plan towards increased profitability.
---
---
In 2019, before the pandemic disrupted the company's growth plans, Frontier operated roughly 11% of its capacity into the Caribbean. This winter that will reach 15%, and not because other markets are shrinking. By 2024 the company hopes to have 20% of its ASMs flying into the region, mostly from Florida but also from Philadelphia and Newark where the VFR (visiting friends & relatives) markets are particularly strong.
Frontier also plans significant domestic growth at Orlando, part of its shift towards making that the largest station in its network by the end of the year.
---
A favor to ask while you're here...
Did you enjoy the content? Or learn something useful? Or generally just think this is the type of story you'd like to see more of? Consider supporting the site through a donation (any amount helps). It helps keep me independent and avoiding the credit card schlock.
---