Frontier's next new city will not be a small endeavor. The carrier is coming to Newark in a big way. Over a six-ish month period some 15 routes will be added, both domestic and international, filling in the void left when Southwest Airlines announced it would close operations at the airport in November.
---
---
The new service will grow in three phases. First up are daily flights to San Juan, Miami, Orlando (2x), and Las Vegas, all beginning on 14 November 2019. That's just 11 days after Southwest leaves the airport.
The second tranche of flights adds a second Miami service plus Phoenix and Atlanta on 10 December 2019. Palm Beach also joins the route map, though that will be a seasonal destination.
Finally, eight more destinations will be added in the March/April 2020 timeframe. These include Cancun and Punta Cana for international service, as well as Tampa, Denver, Ontario, O'Hare, Raleigh-Durham and Dallas-Ft Worth.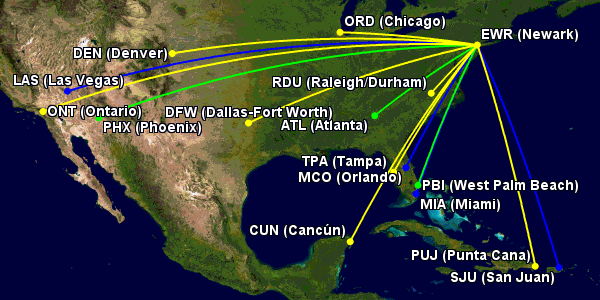 ---
---
Notable about the route selections is that these are very much NOT secondary markets. The flight frequencies are limited, making them less useful for business travelers, but Frontier is going after two of United's hubs, four of American's hubs and Delta's largest hub. High volume markets can arguably absorb the capacity growth from one extra daily flight better, but they're also likely to see stronger price retaliation from the incumbent carriers.
As part of the carrier's efforts to fit into the Newark operations it will avoid the peak afternoon departure bank. The carrier hopes this will keep its operations closer to on-time while also avoiding increasing the problems for the Port Authority and other carriers at the airport.
We'd like to thank our partners at the Port Authority of New York and New Jersey and the FAA for helping to establish Frontier as an effective low fare option at Newark Liberty Airport, without further contributing to delays in the most congested hours.

– Daniel Shurz, senior vice president of commercial for Frontier Airlines
Such schedule isolation is not entirely uncommon, though it can reduce aircraft utilization efficiency. When Southwest first showed up in New York City it isolated its fleet serving LaGuardia to insulate against rolling delays. Frontier's decision to avoid the worst delay periods should help on that front, though as seen in the chart the overall numbers for Newark are not particularly great at any time of day.
---
A favor to ask while you're here...
Did you enjoy the content? Or learn something useful? Or generally just think this is the type of story you'd like to see more of? Consider supporting the site through a donation (any amount helps). It helps keep me independent and avoiding the credit card schlock.
---