Why is JetBlue planning two dozen new routes this winter in markets that, a year ago, would have been unthinkable? To quote infamous bank robber Willie Sutton, "Because that's where the money is." At least, that's what JetBlue hopes. Head of Revenue and Planning Scott Laurence explains that the moves "advance our revised network strategy, return more aircraft to the skies and double down on our ability to generate more cash sooner."
This is the latest example of JetBlue's ability to be nimble and play offense as we quickly adjust to new customer behaviors and booking patterns.

– Head of Revenue and Planning Scott Laurence
The move comes on top of 30 other "crazy" routes announced in late June. And, much like those new routes, the carrier is clear that it will pay very close attention to the revenue performance, with its "nimble" response able to drop underperforming routes quickly if appropriate.
---
---
Fun and Sun driving expansion
JetBlue is targeting markets where it "anticipates increasing demand for leisure travel" into the winter months, with notable growth in the Caribbean and Latin America as well as in the Southern United States. The airline will also continue its push to grow across the New York City-area market, with significant expansion at Newark. Mixed in with all these routes are a number that will feature Mint, JetBlue's business class offering.
Cancun will add flights from Newark (2x daily), Los Angeles (1x), Tampa (1x), Raleigh-Durham (1x), and San Francisco (2x) as of 19 November, just in time for the Thanksgiving holiday push.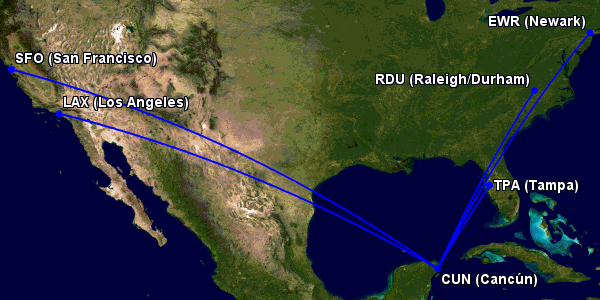 These flights join six other daily flights to Cancun on the schedule from JFK (2), Boston (1), Fort Lauderdale (1), and Orlando (2). They also join 60+ other daily flights from US-based carriers to Cancun, including competition with United Airlines at LAX, SFO, and EWR plus American at RDU, showing just how much traffic the industry believes is headed to the beach this winter. Based on current schedules JetBlue will be the 4th largest carrier in Cancun, just a couple daily flights behind Delta and jumping ahead of Southwest Airlines.
Other Caribbean and Latin American market expansion will come as Aruba, Montego Bay, Punta Cana, Sint Maarten, Turks and Caicos, and Nassau are added from Newark (all 1x daily) while Liberia and San Jose, Costa Rica will gain service from Los Angeles. The LAX expansion was previously suggested, including these specific markets, though getting to them this quickly is somewhat unexpected. Indeed, expansion in Los Angeles s coming quickly in domestic markets as well, faster than previously suggested.
Fort Lauderdale will add flights to Palm Springs and Bozeman, both popular winter leisure markets, for the coming season.
---
---
Mini-focus in the South
Richmond, Virginia and Raleigh-Durham, North Carolina are not where one might expect JetBlue to seek out significant expansion of service, but come November more of the the JetBlue fleet will be visiting those airports. Richmond will see service to Los Angeles, Las Vegas, and Tampa added, joining Orlando, Fort Lauderdale, and Boston. None of the routes face direct competition, though the Tampa flights see Allegiant compete to Sarasota and St. Petersburg at much lower frequencies.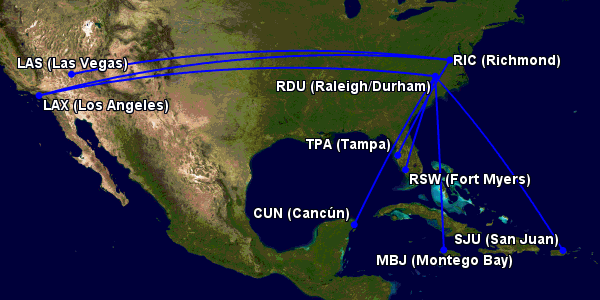 Raleigh-Durham has long seen a mini-hub presence from Delta Air Lines (nearly 80 daily departures on the December schedule currently) and long-haul service from American Airlines to London as part of its 60ish daily flights. It will now add five destinations from JetBlue, including Fort Myers, Los Angeles, Montego Bay and San Juan, plus the previously noted Cancun route.
Los Angeles will see three carriers battle for traffic, while the other routes are JetBlue's alone. JetBlue moves to be the number 5 carrier in the RDU market, but also distances itself from the other bit players with this growth.
Mega Mint Markets
Transcon frequencies from JFK are down meaning JetBlue has spare Mint-configured aircraft available. The company will try out a number of new markets to see which might support the premium offering during this period. These include Newark to Sint Maarten and Aruba and Los Angeles to Liberia and Palm Beach. The Palm Beach flights are daily on Mint-configured planes while the other routes are only select services.
JetBlue will also bring Mint to its Newark-San Diego and Las Vegas routes to increase aircraft utilization on those planes.
Extending fee-free flexibility
JetBlue still isn't dropping its change fees completely like other US carriers recently announced, but for the time being that doesn't matter too much. The carrier extended its "Go Back and Forth with Confidence" initiative, allowing for all bookings made through 28 February 2021 to waive all change and cancel fees, including on its Blue Basic basic economy fares.
---
A favor to ask while you're here...
Did you enjoy the content? Or learn something useful? Or generally just think this is the type of story you'd like to see more of? Consider supporting the site through a donation (any amount helps). It helps keep me independent and avoiding the credit card schlock.
---