Behind all the hype and promises of an airline merger sits a pile of bureaucracy. Among the requisite filings is a request to the US DOT to transfer previously granted route authorities, allowing the combined operation to keep flying all the international services the individual airlines operate. And, typically, that's something of a rubber stamp. But the request requires that the DOT find the "transfer is in the public interest." For JetBlue and Spirit Airlines, that makes for a far more interesting filing than prior mergers have offered.
Indeed, the carriers offer up 20 pages of justification, teasing lower fares and improved service as they scale up to compete with the Big Four. Perhaps more notable, however, is that JetBlue explicitly teases out specific routes and markets where it says expansion is likely, assuming the merger is approved.
---
---
Both Spirit and JetBlue are limited in their growth opportunities at Fort Lauderdale and Los Angeles. On the west coast, the carrier promises a launch of Hawaii service with the ability to better align gate usage at LAX. An expanded short-haul presence on the west coast is also teased.
By combining JetBlue and Spirit's gates in Terminal 5, a larger JetBlue will have more real estate to better optimize and expand the number of flights and destinations at LAX beyond what the two carriers do separately. A larger JetBlue will be able to maintain its robust transcontinental offering to key cities during certain time periods (mornings and evenings), but also operate a robust intra-West and international leisure schedule during the day when transcontinental flying is time-channel restricted. JetBlue currently struggles to do this efficiently because of its overall minimal presence on the West Coast. A larger JetBlue with access to additional Terminal 5 gates will be able to add even more routes from Los Angeles including Hawaii flying and additional leisure service.
Putting aside the fact that the Hawaii service was being teased well before the merger was proposed, pending acquisition of sufficient aircraft (Europe was a priority, and Airbus is late on deliveries), the mix of better connecting flow and retiming some flights for gate utilization should work nicely for the combined companies.
JetBlue also teases better connecting traffic at LAX from San Francisco and Salt Lake City to San Pedro Sula, Honduras and to Guatemala City.
---
---
On the east coast JetBlue would divest Spirit's operations at Boston, New York City, and Fort Lauderdale. But even with those cuts it anticipates a far more efficient use of the resources in South Florida, leading to a hub that could better compete with American at Miami.
JetBlue and Spirit today independently schedule their international arrivals without any regard for how the other operates. But as a result of JetBlue's acquisition of Spirit, and joint control of a larger number of gates, JetBlue will be able to optimize its schedules, particularly international schedules, to ensure that a larger overall number of customers have more connecting options.
With the improved connecting flow, JetBlue identifies a number of specific markets that "would be possible at FLL that are not viable today." This is not a guarantee they would be added nor a timeline for such. In that sense naming specific markets in the application is an interesting choice. Some might see it as baiting or signaling the competition. But here we are.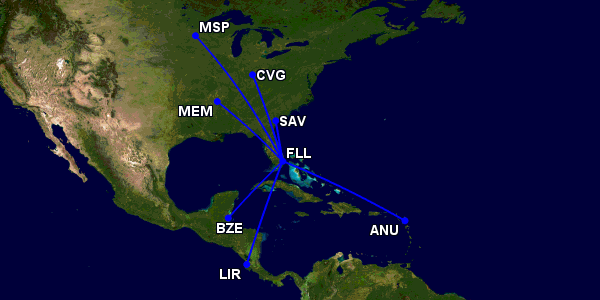 With the ability to better time its connecting flight banks JetBlue also sees a dramatic improvement for competing with the Big Four in a number of international markets via Fort Lauderdale.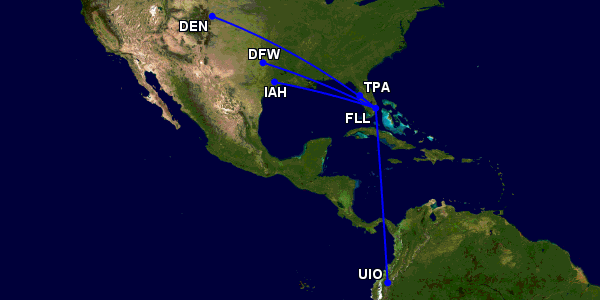 Both Quito, Ecuador and Nassau, Bahamas are cited specifically in the application. The limitation on international gates should not be an issue with the Bahamas flights given pre-clearance in Nassau, but that's still on the list.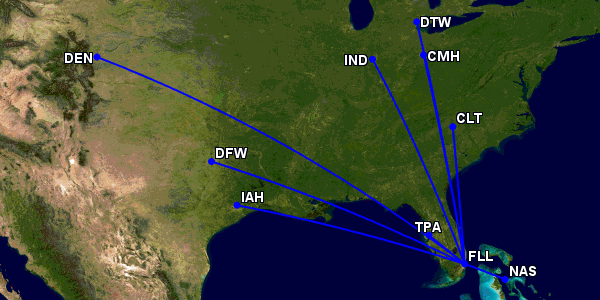 JetBlue is working hard to convince the government to approve its purchase of Spirit Airlines, wasting no opportunity to plead its case. And while the filing may come off as a bit more desperate than those of prior airlines, that is likely justified. After all, regulators were pretty clear they would require convincing on this one.
---
A favor to ask while you're here...
Did you enjoy the content? Or learn something useful? Or generally just think this is the type of story you'd like to see more of? Consider supporting the site through a donation (any amount helps). It helps keep me independent and avoiding the credit card schlock.
---