New planes are on the way, and JetBlue plans to resume growth in 2023. But the company anticipates a bit of turbulence along the way. In a message to crewmembers this week the carrier indicated it will "extend some of the market suspensions put in place earlier this year" for the fall season and into early 2023. Those cuts are to maintain operational resiliency "primarily in markets and airports that are especially challenging from an operational or ATC perspective."
But as 2023 rolls around the company sees growth on the horizon. With its A220 and A321neo fleets expanding (10 more expected in 2022, 32 in 2023) the company needs to plan for where they will make the most impact on operations.
---
---
The A321neo fleet growth includes A321LR planes, allowing the carrier to expand past London for European service. Management expects to announce a second destination later this year, with service launching in time for the peak Summer 2023 season.
Other A321neo planes joining the fleet in 2023 will come with the company's domestic Mint configuration on board. JetBlue "intends to put many of those aircraft in our Los Angeles focus city." Whether these planes take over for some frequencies currently operated by American Airlines under the Northeast Alliance (NEA) partnership or expand to new markets remains to be seen.
Taking over the A321T routes from American would leave that carrier with a sub-fleet in search of purpose. The interiors on those planes are showing their age and probably should see a retrofit in the next few years. But American ceding the transcon markets to JetBlue would be quite a play, especially without a true joint venture in place.
JetBlue previously added Mint service to Liberia, Costa Rica from Los Angeles. With the increased fleet and growth of gate space – the company now holds preferential access at five gates – more frequent service should be possible. The company also discussed Guatemala City (GUA) and San Salvador (SAL) as potential markets. Whether those would support Mint service levels, however, remains to be seen.
Another option, enabled by the additional range of the A321neo, is service to Hawaii. That market boomed over the past two years and, even with the significant competition, could bring some value with JetBlue's premium product offering.
---
---
Fort Lauderdale will see an operational shift. The company will "mostly remove the E190 from FLL and replace it with Airbus aircraft." Whether these prove to be A220s or A320-family planes is unclear. Schedules at Fort Lauderdale will also see a "tweak" to "improve reliability and optimize connectivity." Given the level of impact it has seen from ATC challenges, one can safely assume this means fewer total flights and more padding on connections to keep passengers moving.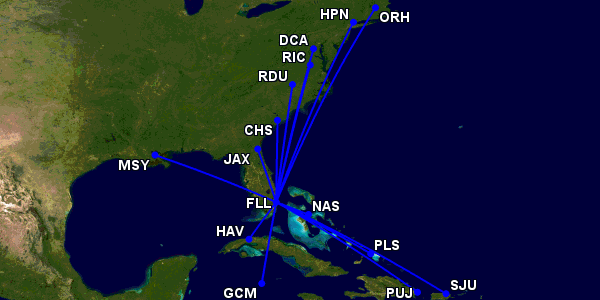 Currently filed schedules for Q2 2023 show a dozen markets where the E190 is the primary aircraft type flying from Fort Lauderdale. Perhaps not all of these will shift, but expect that most will as the company accelerates the E90 retirement plan and consolidates the planes to optimize operational reliability.
Boston is also expected to see continued growth thanks to the NEA. The A220 fleet continues to be a core factor in that growth, offering 40 more seats per departure than the Embraer fleet for scale.
---
A favor to ask while you're here...
Did you enjoy the content? Or learn something useful? Or generally just think this is the type of story you'd like to see more of? Consider supporting the site through a donation (any amount helps). It helps keep me independent and avoiding the credit card schlock.
---