Starting an airline is a long, complicated process. Operating certificates must be acquired. Crew must be hired and trained. Marketing plans must be established. Aircraft must be secured. And tickets need to be sold for a long enough period to time to ensure a chance of filling seats once everything gets moving. Or you could be IAG and launch new operations for the LEVEL short-haul in a matter of weeks. Or just a couple months; rumbllings of this plan circulated in late May, too.
---
---
The new LEVEL flights will start in Vienna on 17 July 2018, operating with four A321 aircraft that previously flew for AirBerlin. Booking will be handled on the website of Vueling, another LCC brand IAG operates. And the flights will be operated using the operating certificate of Anisec Luftfahrt, an airline founded in November 2017 to handle operations in Austria as part of the IAG bid for the scraps of AirBerlin and NIKI. After winning the NIKI bid and then having that annulled it is no surprise that IAG is now back in the market, with plans to fight. The new operation competes directly against the Laudamotion/Ryanair pairing that ultimately won the NIKI assets bid.
LEVEL's short-haul faces more than just the direct competition against Lauda and Ryanair. Eurowings, WizzAir, Volotea, and EasyJet are all in these markets. Plus legacy carriers Air France and Austrian Airlines in some markets. Even Vueling is a competitor on some routes. There is no certainty that this effort can be financially successful; the obstacles to such are myriad.
---
---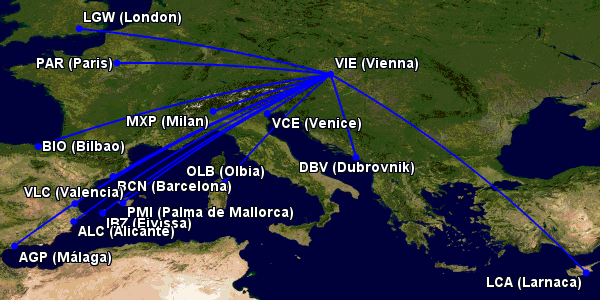 As for why the operation is launching with a new underlying airline operator, that's less clear. It can help with labor contracts and costs as the new airline brings over none of the historical rates and seniority from the older operations. And there's arguably some value in keeping diversity of operating countries from a political perspective.
And maybe there's real value in the LEVEL branding, over and above what IAG managed to achieve with any of its other brands thus far.
---
A favor to ask while you're here...
Did you enjoy the content? Or learn something useful? Or generally just think this is the type of story you'd like to see more of? Consider supporting the site through a donation (any amount helps). It helps keep me independent and avoiding the credit card schlock.
---