Turkish Airlines is keen to brag about its global reach, noting that it flies to the most countries in the world. That reach might drop by one this week, however, as Nigeria appears keen to stop the airline from operating to three destinations currently served. With a demand that Turkish adjust its aircraft types in use, the Nigerian Civil Aviation Authority is threatening to revoke the foreign operating certificate that allows the airline to connect Istanbul to Port Harcourt, Abuja, and Lagos.
The routes in question are relatively long, each in excess of 2,500 miles. But that's not particularly out of the range of a 737. The type routinely flies from the US West Coast to Hawaii, for example, which is a similar distance. But the longer flights do press some limits, especially when the cargo and checked baggage components grow. And, generally speaking, the baggage demand into Nigeria is very, very high.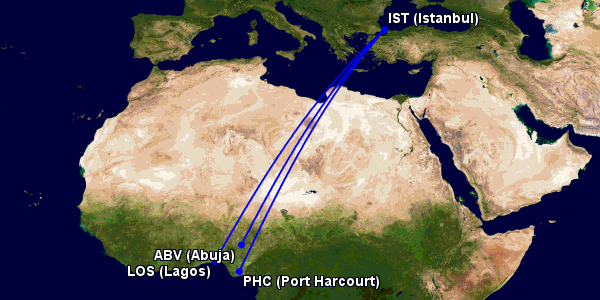 ---
---
Passengers in Nigeria are not taking kindly to the airline not carrying their checked baggage, to the point that violence is breaking out in the airport. Reports suggest that some flights are arriving with as many as 85% of the bags missing.
Local media in Nigeria is quoting the Acting Director General of Nigeria's aviation regulator Captain Abdullahi Sidi as stating the flights arriving without passenger bags create "serious crisis controlling the passengers." Moreover, Captain Sidi suggests, "This issue has made passengers to carry out several mob actions at our airports and it is a great threat to our airport facilities."
It is unclear if the issue is total weight of the checked bags, the volume of bags or displacement of passenger bags by belly cargo. Regardless, it is a problem for Turkish Airlines and Nigerian regulators are no longer willing to tolerate it.
Sidi issued an ultimatum to the airline, declaring "NCAA is therefore left with no option than to direct Turkish Airlines to suspend its operations into Nigeria until such a time when the airline is ready to operate with the right size of aircraft that can transport all passengers with their baggage at the same time." Assuming further negotiations are unsuccessful the suspension takes place on 16 December 2019.
Turkish is scheduled to operate flights to all three cities on Monday. The first departure – and first flight potentially affected – will be the Lagos A330 slated to leave Istanbul at 3:40pm. Abuja and Port Harcourt are slated to depart at 6:35pm and 7:25pm, respectively.
---
Update: The two routes typically operated by 737s are, at least for Monday, being swapped to larger A330-200 aircraft that can carry the additional baggage loads.
Original story continues below.
---
---
---
This spat is not the first time government regulators have become involved in fleet planning discussions. In 2008 Continental Airlines raised the ire of US regulators as a higher number of flights than average declared minimum fuel en route from Europe on the 757-200s. While within the aircraft's range the flights would often face strong headwinds westbound over the Atlantic, forcing either a diversion to refuel or higher than expected fuel burn. And German regulators took issue with some of the 757-200 flights being advertised as non-stop given the frequency of diversions. That situation did not, however, see a license revoked.
Neither Turkish Airlines nor the NCAA responded to requests for comment about the current state of flights, though it is also a weekend.
---
A favor to ask while you're here...
Did you enjoy the content? Or learn something useful? Or generally just think this is the type of story you'd like to see more of? Consider supporting the site through a donation (any amount helps). It helps keep me independent and avoiding the credit card schlock.
---