Good news for Southwest Airlines and its plans for Hawaii. The carrier received approval from the FAA for its Extended Operations (ETOPS) procedures and manuals on 21 December 2018. But don't start planning flights just yet. The carrier still needs to pass a few more hurdles before it can schedule service.
The FAA requires a "table top exercise" where various ETOPS scenarios are practiced to ensure that the airline understands the policies it created. Once that is completed test flights on the routes are carried out, including simulation of various systems failures, again to verify that the policies are understood and adhered to. Flights to Hawaii are not in pilot schedules for January nor February.
---
---
March bid packets come out on 20 January and may inform a start date, though it is likely the news would be shared more broadly outside of that cycle. Letting the new schedule leak through crew roster bids would be a surprising miss for the company that has spent nearly a year teasing the new offering.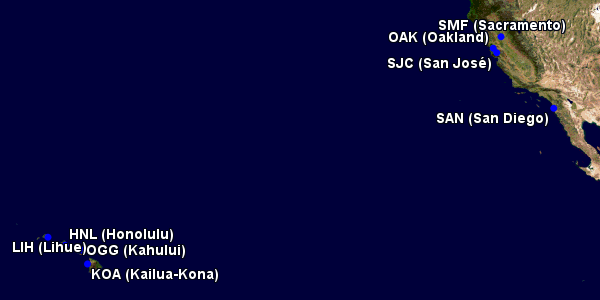 Once the certification aspects are finalized the carrier still must settle on routes and fares. Company President Tom Nealon, previously indicated that the carrier will "lead on pricing" as it launches service.
The company also confirmed its island airport and mainland gateways as well as an intention to offer interisland services. Specific routes have not yet been published. Nealon also noted that the new service will not all launch on day one after the necessary approvals are secured, though he does expect the company to transition into those flights relatively quickly.
---
---
As for the certification, timing remains unclear. The table top exercise and test flights both require FAA safety inspectors' participation. The current government shutdown affects the FAA meaning those inspectors responsible for oversight, certification, and surveillance are furloughed rather than working through projects like this one. And southwest is not alone in this problem. The shutdown could also impact Delta Air Lines' efforts to get its A220 fleet into service at the end of the month as well.
---
A favor to ask while you're here...
Did you enjoy the content? Or learn something useful? Or generally just think this is the type of story you'd like to see more of? Consider supporting the site through a donation (any amount helps). It helps keep me independent and avoiding the credit card schlock.
---