With a potential global health crisis looming aviation authorities around the world are stepping up efforts to identify and quarantine travelers who may be carrying the SARS-like coronavirus that first appeared in Wuhan, China. Authorities confirm six deaths and nearly 300 patients diagnosed with the illness. It is also confirmed to be transmitted via human-to-human contact and crossing international borders. Cases identified in South Korea, Thailand, and Japan in recent days have health authorities on edge.
Thus far the responses have been limited for travelers, but countries are just beginning to formulate their plans. Checkpoints have been established at airports in Hong Kong, Nepal, Australia, Thailand, Singapore, Bangladesh, Japan and the United States.
Authorities in India directed seven airports to establish similar checks for passengers arriving from China. Other countries with large numbers of Chinese tourists are likely to follow suit.
---
---
Those checkpoints may be effective, or maybe not. Scanning for fevered passengers may be insufficient with a one week incubation period for the illness. Moreover, in some cases the plans are only for flights arriving directly from Wuhan, a tiny fraction of the total number of Chinese travelers flying abroad. Thailand alone reportedly expects 1,300 arrivals from Wuhan each day during the upcoming week of peak travel.
With cases also reported in larger Chinese cities the limitation of checks to only arrivals from Wuhan may prove particularly short-sighted.
China's Civil Aviation Administration issued an order requiring that airlines provide refunds without penalty to any passengers ticketed to Wuhan that wish to change their plans.
On January 21, the Civil Aviation Administration issued a notice requesting that all transportation airlines attach great importance to passenger service while doing a good job in the prevention and control of pneumonia outbreaks of new coronavirus infection. For passengers who have already purchased tickets for Wuhan flights, The refund request shall be handled by the airline free of charge.

All units of the civil aviation system will do their best to prevent and control the epidemic situation in the civil aviation field, ensure the orderly development of air transport during the "Spring Festival Transport", reduce the risk of epidemic infection of civil aviation passengers and employees, and avoid the spread of immunity through aircraft. – CAAC Statement
---
---
]
That the outbreak is growing against the backdrop of the Lunar New Year Golden Week travel period is especially worrisome for health officials. Hundreds of millions of Chinese are expected to travel this week in very close quarters across buses, trains and planes. With confirmation that the disease is transmitted through human contact rather than only via animals as initially reported the risk is much greater.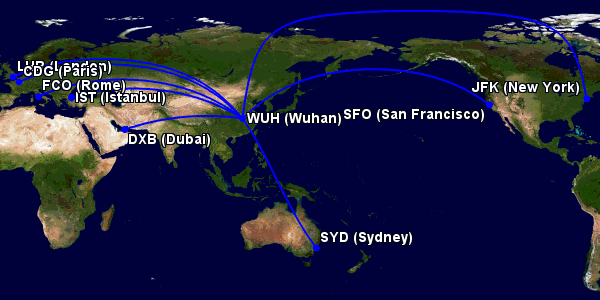 And air connectivity is also significantly more pervasive since the SARS outbreak of 2003. China's aviation segment has grown 5x or more since 2003 per CAPA data and the share of international traffic also continues to increase.
---
A favor to ask while you're here...
Did you enjoy the content? Or learn something useful? Or generally just think this is the type of story you'd like to see more of? Consider supporting the site through a donation (any amount helps). It helps keep me independent and avoiding the credit card schlock.
---