AirAsia Japan is dead. Again. The second iteration of the ASEAN discount carrier's operation in Japan ceased operations on Monday, bringing an end to the three year run the carrier flew from its base at Nagoya.
Despite our unrelenting efforts to sustain operations through successive and wide-ranging cost reduction initiatives, we have concluded that it would be an extremely challenging feat for us to continue operating without any visibility and certainty of a post-pandemic recovery path.

– Representative Director and COO of AirAsia Japan, Jun Aida
---
---
AirAsia Japan operated three aircraft serving four routes at its demise.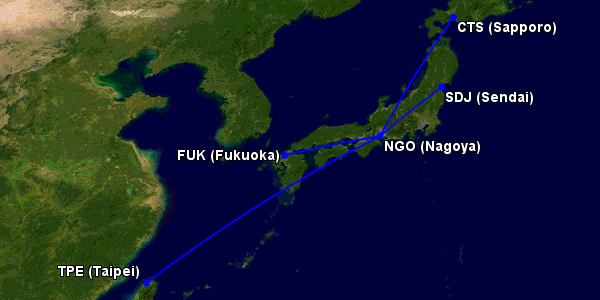 Other AirAsia subsidiaries serving Japan, including from Thailand, Malaysia, and the Philippines, will remain and resume when borders reopen.
The company cites the adverse market conditions created by COVID-19 and associated border closures, moves that "severely curtailed demand for business and leisure travel resulting in flight reductions, cancellations and grounding of aircraft." With no visibility into a clear path to recovery the company chose to cut its losses and terminate operations.
Passengers holding tickets for now cancelled service can choose from a credit for other AirAsia family service issued immediately or a proper refund to be delivered eventually. The company estimates a 16-week timeline to process refunds.
---
---
The AirAsia Japan operation was very similar to the rest of the group's short-haul airlines, operating on higher demand leisure routes to start and delivering the common inflight experience. But it was also a little different. Striking a deal with a local pottery studio for inflight sales and to bring tourists out to visit was an interesting twist.
Not just a COVID issue
Also, the operation never really made money.
Even before COVID hit it was on shaky ground, trailing the other regional subsidiaries. The Indian group could face a similar fate, with regulators reporting over the weekend it would shut down before walking back that statement.
AirAsia is pushing hard to pivot its operations into sectors outside airline operations, hoping to become a digital brand that happens to also fly planes. That positioning was in place well before COVID hit but also accelerated by the general collapse of the aviation revenue stream. Keeping the struggling regional affiliates afloat, particularly when they never really established as a compelling brand in the local market, is harder to justify with such a bleak market outlook.
---
A favor to ask while you're here...
Did you enjoy the content? Or learn something useful? Or generally just think this is the type of story you'd like to see more of? Consider supporting the site through a donation (any amount helps). It helps keep me independent and avoiding the credit card schlock.
---