Total air traffic numbers are down in Spring 2020. There is no doubt this is true. But some airports are suffering more than others. An examination of TSA Screening Throughput data shows the impact with greater detail, bringing some interesting patterns to light. And one airline, in particular, is shifting the balance of traffic across the USA.
A review of the per-airport screening data for May 1-23, 2020* shows throughput dropped approximately 92.5% across all the 400+ airports where the Agency oversees screening services. But the average can be a misleading statistic. Only ~15% of airports saw checkpoint numbers drop that much. That some of them represent much larger typical passenger count skews the data.
---
---
Allegiant bucks the trend, and brings its airports along
For some markets the less significant drop in passenger numbers can be directly attributed to one airline. Punta Gorda (PGD) and Clearwater/St. Petersburgh (PIE) both operate as key Florida airports for Allegiant. Phoenix-Mesa (AZA/IWA) serves the same role in Arizona. That carrier has been far more aggressive about operating its flights in recent weeks and the numbers reflect this increase in market share.
The speed of rebound at those airports is even more pronounced when compared against the relative recovery pace at large hubs for the "Big 3" legacy carriers. Allegiant reported that ~8% of all traffic on Memorial Day Weekend was carried on its planes. That reflects a massive boost over its typical 1.5% share. Still, the absolute numbers for the three Allegiant airports remain below even the "bad" levels for the legacies.
Rickenbacker International Airport (LCK) on the outskirts of Columbus, OH sees plenty of cargo traffic, but Allegiant also operates from the field. Its traffic dropped by only about half during the observed timeframe. Similar numbers for Rockford, IL (RFD); Belleville, IL (BLV); and Portsmouth, NH (PSM) reflect the power Allegiant has in keeping traffic numbers relatively higher at the small airports it serves.
Allegiant can also deliver a boost to larger airports, such as Flint, MI or Des Moines, IA. In both of those cases the carrier boosted its market share and saw a much more limited drop in passenger count compared to other carriers. The Flint example is further emphasized by the fact that Saginaw, Michigan sits about 45 miles away and shows some of the steepest drop in passenger count. But Saginaw does not receive Allegiant service to help prop up the numbers.
Comparing Allegiant to the Majors at smaller airports
The six airports compared above all saw checkpoint numbers between 33-36,000 in January 2020. Harlingen, Texas (HRL) was slower to shed passengers, presumably related to its popularity as a Spring Break destination. But Allentown and Fayetteville are recovering more quickly than the others in absolute numbers while Appleton is coming off the bottom reasonably quickly. All three of those airports see multiple weekly flights on Allegiant.
Traffic remains down significantly at these airports; Allegiant is simply doing better than the others in getting closer to matching its previous traffic numbers.
---
---
Other changes across the USA
Beyond the Allegiant data other trends emerge. Several of the airports showing the largest drop were either closed or severely restricted traffic. These include island destinations such as Ponce and Aguadilla, Puerto Rico; Kahului, Lahaina, Lihue, and Lanai, Hawaii; Pago Pago, Guam and Saipan. Provincetown and Nantucket, Massachusetts also showed steep drops, as those communities effectively sealed off from outsiders.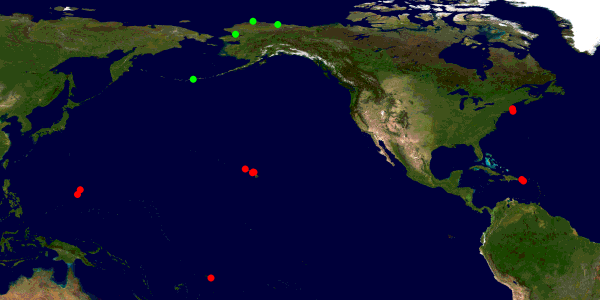 Countering those steep drops were remote stations in Alaska, such as Barrow, Deadhorse, Adak Island, and Kotzebue, Alaska showing significant increase in total share of passengers. Adak and Deadhorse reported true increases in passenger numbers for the date range, though against a low comparison.
Mixed results across the Lower 48
New York City showed massive drops in passenger count. JFK, LaGuardia and Newark are among the worst performers, as are White Plains and Newburgh/Stewart. Boston and San Francisco are two other major hub airports that join the list.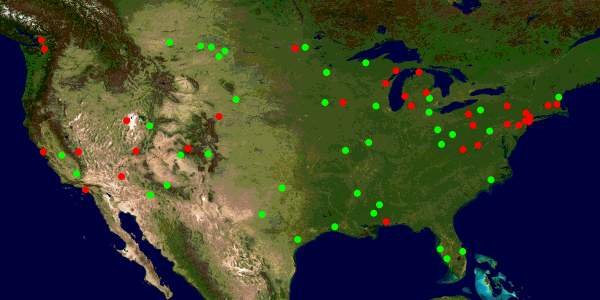 Other airports showing strong performance are generally tied to Essential Air Service contracts where flights are not cut at all as operations remain subsidized by the US Department of Transportation. There are more of those than Allegiant winners, but it is a close race.
*This is the most recent data for which the TSA has shared the per-checkpoint screening details as of publication time.
---
A favor to ask while you're here...
Did you enjoy the content? Or learn something useful? Or generally just think this is the type of story you'd like to see more of? Consider supporting the site through a donation (any amount helps). It helps keep me independent and avoiding the credit card schlock.
---