It might not be a hub or even a focus city, but it is starting to look a lot more like one. American Airlines continues to boost its presence in Austin, TX. The carrier intends to add up to 16 daily departures to another 10 domestic destinations this Fall. Another four international routes will also be added, each flying 4x weekly.
Earlier this year we added more flights from Austin, and customers have spoken: they want more.

– Brain Znotins, Vice President of Network Planning
---
---
Demand for non-stop, point-to-point service is driving the shift in the network, and American's new approach reflects that change. The new American flights combine with partners JetBlue, Alaska Airlines, and British Airways to deliver more than 100 peak daily departures from the central Texas non-hub airport. And at least 27 of those routes will operate to destinations that none of the four partners consider a hub.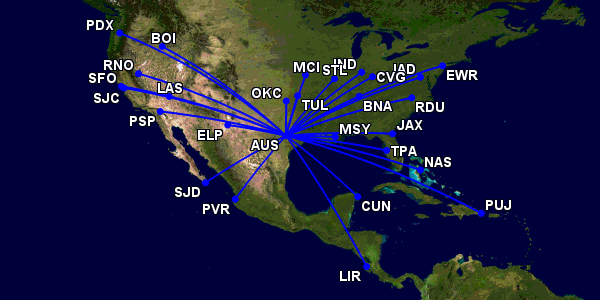 While Austin is not a hub for any of these airlines, it is also not not a hub. American is selling connecting routes via Austin. In some cases the Austin connection is the most efficient routing in currently published schedules.
Which is not at all to say that Austin will take over from the Dallas-Fort Worth hub just 190 miles to the north. DFW is expected to exceed 900 daily departures based on currently filed schedules, compared to the 100 at Austin.
---
---
But it is clear that Austin is expected to support the new routes directly as well as offer some relief to other hubs. At some point American will likely need to acknowledge that it operates at least as a focus city given the volume of traffic it supports outside of hub-bound operations
---
A favor to ask while you're here...
Did you enjoy the content? Or learn something useful? Or generally just think this is the type of story you'd like to see more of? Consider supporting the site through a donation (any amount helps). It helps keep me independent and avoiding the credit card schlock.
---