"We very often don't earn enough cash to cover the price of fuel on the flight." When it comes to making the tough choices about reducing routes this is the sort of obvious trigger point that would move a city pair to the top of the chopping block. And for American Airlines it finally is happening. The carrier is dropping service to Beijing from its hub in Chicago, effective this winter. It will replace that route with service to Hawaii, a market it believes is far more financially viable.
We're not cutting Chicago-Beijing because we're out of the Chicago international game. We're cutting it because we want to be a smarter player in Chicago to international. – Vasu Raja, American Airlines VP, Network & Schedule Planning
The comment came in a company podcast from Vasu Raja, American's VP, Network & Schedule Planning, explaining the several route changes announced this week. Chicago sees several Saturday-only seasonal routes to the Caribbean added, along with the new Hawaii service. Miami loses one of its London flight as joint venture partner British Airways adds a third service, bringing a larger aircraft as well. American will add an additional Heathrow frequency from Dallas-Fort Worth with the aircraft freed from Miami.
---
---
Building the international network
Raja's quip about covering fuel costs is only a small part of the explanation he offered for the shift. The carrier is heavily focused on extending its success in the domestic market to its international operation.
We're playing to win internationally. We are not out for market share. We are out to create the long-term profitability in our international network that we have enjoyed in our domestic network.
Raja continues, explaining how this must come about "opportunistically" rather than in every market.
Over the years we've started a number of routes in Chicago: Delhi, Helsinki, Moscow, Frankfurt, Beijing, any number of Chicago to Asia routes. These routes have all almost chronically lost money on. If you look over the last 15-20 years of our flight profitability data they are among the worst routes we've had in the international system. … We flew those markets every day throughout the year with the biggest jets we can, whether the flight was full or not. That creates a real drag on profitability.
Regulatory limits may explain why the Chicago-Beijing route lasted so long without turning a profit. The bilateral air services agreement between the US and China limits the number of flights between major cities in China and the USA. Currently all those slots are allocated. Dropping the route means returning the slots for reallocation and American doesn't want a competitor to win them. The carrier hopes the DoT will allow it to retain the slot even without operating flights this winter. Presumably United Airlines or Delta Air Lines will object to that plan and the DoT is likely to open proceedings for the reallocation.
Fun & Sun (& Profits!)
So, is Chicago the problem, then? If all of those routes failed are there still some that can work? American hopes that by picking seasonal service and using aircraft to leisure destinations on weekends when they would otherwise be idle from their business destination service the fleet utilization and yields will stack up to a win. Seasonal, Saturday-only service from Chicago to four Caribbean islands fits that model perfectly.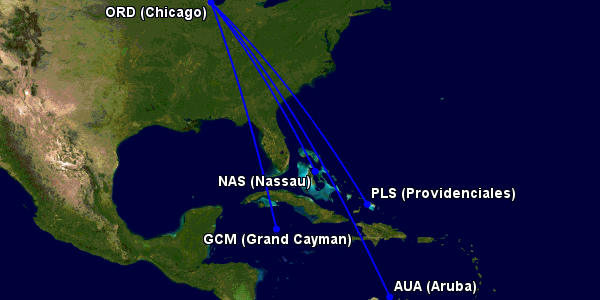 Flying the good fares
Raja gave an example of fares related to the Beijing route as part of his explanation for dropping the service. One of the larger origin points for that service is St. Louis. Passengers connect via O'Hare en route to Beijing. The STL-PEK city pair turns out to be incredibly cheap. Walk-up fares can be had for under $700 (Raja uses $250 as the one-way price without taxes/fees included in his example). Other routes he mention are Honolulu for $500 or London for $1600. Obviously the airline would prefer those higher fares, but the cheaper Beijing seats are displacing them according to Raja.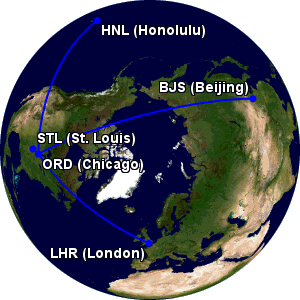 But the Beijing fare is also available via Dallas and Los Angeles. Filling the seats for the incremental revenue is useful at the last minute, but if it is really displacing passengers from the London service then fare rules or married segment inventory controls should be able to manage that passenger flow. There is no reason to doubt that the passengers flying St. Louis to Beijing are lower yielding given the fare and the company's statements, but there are no guarantees that anyone will buy the London seat at the much higher price.
Seasonal to London?
The shift on service to London is another way the company hopes to be more nimble in the international market. Moving an additional AA plane to DFW while BA adds an even larger aircraft into Miami lets each side trade on its brand strengths (AA in the Southwest and Texas, BA in Europe) for moving passengers through London most efficiently. With the joint venture in place the shared revenues mean the carriers profit from such successes. Raja eventually hopes to go beyond that, however, growing the destinations served from London as well.
We want to extend our hub-and-spoke business model into our partner hubs, such as London-Heathrow or Madrid. We do this by integrating more deeply with our joint ventures. …The bankruptcy and the merger were distracting. We are distracted no more. It creates the the ability for us to be as dynamic and nimble as our competitors are today. We could start a route from to Heathrow from hubs that don't have it for a season.
United and Delta both operate seasonal services to partner hubs in Europe. Delta also flies non-hub service into European hubs. These are the types of expansion American is keen to pursue. And with good reason: the other alliances make them work very well and TATL competition is challenging, particularly as LCC players expand.
---
A favor to ask while you're here...
Did you enjoy the content? Or learn something useful? Or generally just think this is the type of story you'd like to see more of? Consider supporting the site through a donation (any amount helps). It helps keep me independent and avoiding the credit card schlock.
---