For years airlines have battled to dominate international markets from Los Angeles International Airport. This week American Airlines effectively conceded defeat in that market. As part of its long-haul network revamp the carrier will shed most of those routes from LAX.
We're going to rely on our hubs' greatest strengths with our existing international network, and further integrate into our partners' hubs to provide connectivity that's been untapped in the past.

– Chief Revenue Officer Vasu Raja
---
---
Big cuts overall
American's long-haul network for 2021 aims to offer roughly 75% of the 2019 capacity. Chief Revenue Officer Vasu Raja describes it as a necessary "reset" to the network, one that will emerge "using the strength of our strategic hubs" to "build and grow upon and be profitable in this new environment."
Those strategic hubs will be Miami for the Caribbean and Latin America, Dallas-Fort Worth for Asia and Philadelphia for the Transatlantic market. Even the carrier's fortress hub at Charlotte will lose a trio of Transatlantic destinations: Barcelona, Rome, and Paris.
In addition to cutting existing routes American no longer intends to launch service from Philadelphia to Casablanca nor from Chicago to Budapest, Krakow, and Prague. All these routes were slated for a Summer 2020 launch.
---
---
LAX let-down
The cuts at LAX are both the most significant and the easiest to understand. It is the hub where American faces the most competition. And, especially on the Asia routes, that competition comes from both the US and Chinese markets. American previously shed its China-Chicago markets facing a miserable revenue environment. But the carrier held on in Los Angeles, until now.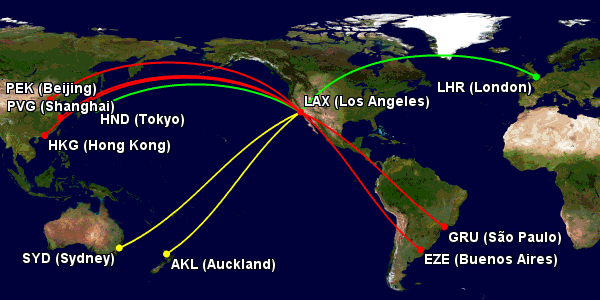 In addition to dropping Shanghai, Beijing and Hong Kong flights American will also stop service to Sao Paulo and Buenos Aires. Those markets historically have benefitted from passenger through flow from Asia. Without that feed, however, the value proposition is much harder to realize. The shift of more Transpacific traffic to DFW allows American to combine that market into others, improving the financials.
American will also keep its Tokyo-Haneda service at LAX for now, with plans to resume those operations on 7 July.
Shifting to Seattle
In February 2020 American announced its intent to establish a "west coast international alliance" with Alaska Airlines helping to feed American's long-haul operations at its Seattle hub. That effort is not disappearing; indeed, it is getting a boost from the LAX draw-down. American officially applied to the US Department of Transportation to shift its allotted Shanghai-Los Angeles route to Seattle. If approved that would join Bangalore and London as the initial international markets for American in the Pacific Northwest.
Unlike the Shanghai route, however, American does not intend to migrate its Beijing service to the new gateway. Those slots will be returned to the DOT, similar to its Chicago-China portfolio last year.
When the Seattle gateway was announced Raja went out of his way to make clear that it was about boosting the overall operations, not shifting from LA to Seattle.
As good as this is for Seattle, it is just as good for LA. Our partnership is a west coast international alliance. We will have a comprehensive partnership. Those domestic flights that they fly into LA will help support our long-haul service out of LA. We expect to continue to grow in LA and also now grow in Seattle and offer a really compelling network as a joint AA/Alaska marketing presence.
This latest round of adjustments, while easily justified on the balance sheet, raise a new round of questions about the operations.
No longer will Alaska routes into LAX be feeding American's long-haul service there. And, while it is true that Seattle remains "a gateway that very much compliments the rest of our hubs" it is much harder to see it as "incremental growth" now that the LA market is closing up so much.
---
A favor to ask while you're here...
Did you enjoy the content? Or learn something useful? Or generally just think this is the type of story you'd like to see more of? Consider supporting the site through a donation (any amount helps). It helps keep me independent and avoiding the credit card schlock.
---