The airline Payroll Support Program portion of the CARES Act delivered on two main goals: keeping airline employees on the payroll and keeping carriers flying to even the most marginal of destinations. With the funding set to expire on 30 September, however, airlines are ready to trim back on both. News of the potential layoffs has been common these past few weeks and, as of today, we now know some of the first airports that will lose service from American Airlines. The carrier plans to drop 15 destinations from its route map as of 7 October 2020 for at least one month. In many cases American is the only airline providing year-round service at the airport.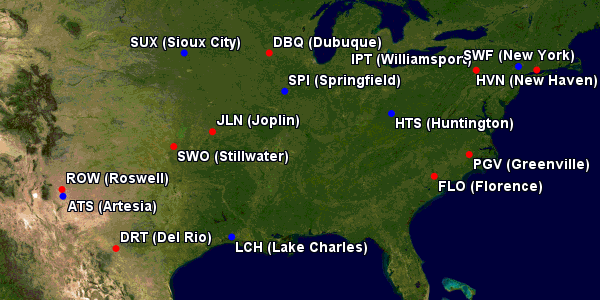 ---
---
American first tipped that some markets were at risk last week. As many as 30 were reportedly under consideration to be cut. That only 15 made the final list is something of a win, at least for the other 15. That six airports may lose commercial service completely, however, is not good news.
The airline is clear that these are suspensions rather than outright market exits. It also notes that it will "continue to re-assess plans for these and other markets as an extension of the Payroll Support Program remains under deliberation." With the full October schedule slated for release on 29 August more changes could still be in the offing.
---
---
What makes a marginal route?
Low passenger count is, of course, one consideration in cutting destinations from the route map. With the entire country running at just under 30% of passenger numbers compared to 2019, however, finding the weakest markets is about more than just the number of people on board. Examining the TSA Screening throughput data compared to 2019 suggests that five of the six markets where American is the sole carrier are performing above the national average as of July. The mix of leisure and business travelers will shift as the summer ends, skewing these numbers somewhat. But it remains clear that markets are about more than just the total number of passengers.
A negotiating play
American is clear that these routes can return should the US government extend its subsidy of airline payroll. That they are spread across 13 states, some with Senators up for reelection this year might also play into the picks. More likely, however, is that the math just doesn't add up for keeping the planes flying in these markets. Ten of the fifteen destinations saw fewer than 150 passengers on average even when times were good in 2019. And with limited network flow at its hubs, even with its more aggressive restoration of service, culling smaller markets just makes sense.
---
A favor to ask while you're here...
Did you enjoy the content? Or learn something useful? Or generally just think this is the type of story you'd like to see more of? Consider supporting the site through a donation (any amount helps). It helps keep me independent and avoiding the credit card schlock.
---