Looking to lease a couple Q400s to launch an airline? The going rate appears to be $50k/month, according to recent DOT filings made by Connect Airlines.
The carrier (via its parent company Waltzing Matilda Aviation) continues to pursue certification for scheduled commercial services. With that comes myriad filings to the US Department of Transportation. And a few appear to have slipped through, unredacted, this week, shedding light on some key financial figures.
---
---
Initial Route Map
No surprise at the initial cities planned for service given the company's prior disclosure of a planned interline agreement and capacity purchase agreement with American Airlines. Still, there are a couple surprises, including details on the domestic US routes planned for operation.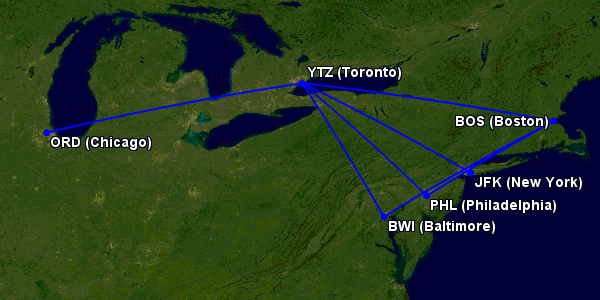 The filing also notes that Connect and American agreed to a 14% interline service charge and no per-ticket fees.
Aircraft lease rates
Leasing terms are generally kept strictly confidential. This filing, however, provides significant details. Base rate for each Q400 comes in at $50,000 per month. The lease term is 96 months to start.
In addition to the base lease rates, the airline must also pay for engine usage. That comes in at about $275/hour (though I suppose less if they run single-engine taxi operations) plus $70 per flight. These rates are subject to annual increases.
The initial pair of aircraft previously flew for FlyBe. They will be reconfigured to 74 seats on board, per the lease, in line with prior reports.
Incidentally, the more spacious, 74-seat configuration is what competitor Porter Air used to have in its planes. That carrier updated its interior configuration over the past 18 months, adding an extra row to now carry 78 passengers.
---
---
Pilot Pay
Connect Airlines, while based in the United States, plans for its pilots to be based in Canada and to pay them under employment contracts there. This raised significant questions from the DOT around what the pay scale would look like.
While redacted in prior filings, this time around the details are clearly visible. They are lower her hour than most of their regional jet competition (though higher minimum hours guaranteed) and higher per hour than other turbo-prop operators.
Read More:
---
A favor to ask while you're here...
Did you enjoy the content? Or learn something useful? Or generally just think this is the type of story you'd like to see more of? Consider supporting the site through a donation (any amount helps). It helps keep me independent and avoiding the credit card schlock.
---