Transitioning from four-engine long-haul aircraft to newer twin-engine options means more efficient operations and reduced emissions per passenger. But when the flights operate over water it also requires additional ETOPS (Extended-range Twin-engine Operational Performance Standards, Engines Turn Or Passengers Swim) certification from authorities. And Surinam's Surinaamse Luchtvaart Maatschappij (SLM, Surinam Airways) is learning the hard way that ETOPS is not just a rubber stamp.
The airline's leased 777 remains unable to fly the shortest route across the Atlantic to Amsterdam, even after receiving certification to operate the plane from local regulators. This could add hours to the company's flights if the aircraft enters service next month as planned.
UPDATE: ETOPS is now officially known as Extended Operations, and it never had anything specifically to do with water, just being away form airports. But I keep calling it ETOPS because that's what people seem to know.
---
---
The airline previously operated 747s and A340s for its service to Amsterdam, types that did not require ETOPS certification. And its route map in the Americas does not stray too far from diversion airports at any time. But the final A340-300 retired form service in late 2019, with a 787 on order to replace it. In the interim a leased 777 was supposed to fill the gap but the carrier struggled to gain certification from the CASAS aviation authority. That issue resolved this week, but the ETOPS challenge remains.
The company is leasing an A340 from Air Belgium to fly its weekly service from Paramaribo to Amsterdam. Earlier in the year it relied on an A330 from Evelop and a 777 from Privilege Style to carry passengers. Those wet lease operations are expensive, however, and the company would much prefer to use its own aircraft and crew.
The ETOPS sticking point appears to be a flight simulator check. Typically this would be performed in Miami as Surinam does not have 777 simulators. Current border closures, however, prevent the airline from conducting the certification tests in the USA. ETOPS also requires additional training of dispatchers, fuel and weather considerations, and satellite-based communications systems on board.
---
---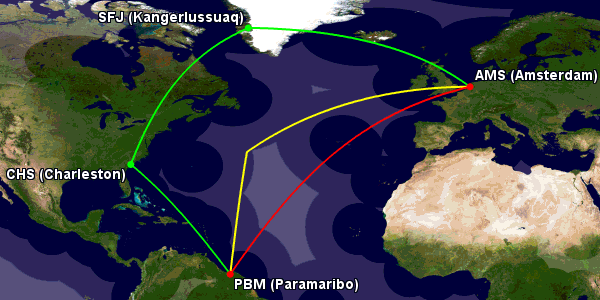 Without the certification in hand, however, the aircraft cannot stray more than 60 minutes from a diversion airport. As shown in the map above, a flight from Surinam to Amsterdam complying with that rule would add 50%+ mileage to the trip. most direct routing would require ETOPS 180, permission to fly up to 180 minutes from the nearest diversion airport. A 120 minute diversion time would require a small reroute, roughly 10% longer than the base trip. The costs could add up significantly for the airline should it pursue this route.
And, for what its worth, non-ETOPS crossing of the Atlantic happen from time to time. British Airways did it on a couple Bermuda-London turns in 2015 owing to engine issues on the plane operating those segments.
---
A favor to ask while you're here...
Did you enjoy the content? Or learn something useful? Or generally just think this is the type of story you'd like to see more of? Consider supporting the site through a donation (any amount helps). It helps keep me independent and avoiding the credit card schlock.
---