The past couple weeks offered up plenty of pain for the airline industry. There is, however, the occasional bit of fun, interesting or even good news coming through in response to the problems. Here are a few of those more positive stories to consider.
A new world's longest flight
Connecting France with its overseas territories is a major challenge, especially when extended all the way to Tahiti. Multiple carriers typically fly the route, all with a stop in the USA (LAX & SFO). But with the US travel ban in effect that stop is no longer viable. Frenchbee announced on Friday that it would move its connection point to a technical stop in Point-a-Pitre as a result. The route will fly over water for nearly all of its 10,633 miles, a testament to the ETOPS reliability standards of modern aviation.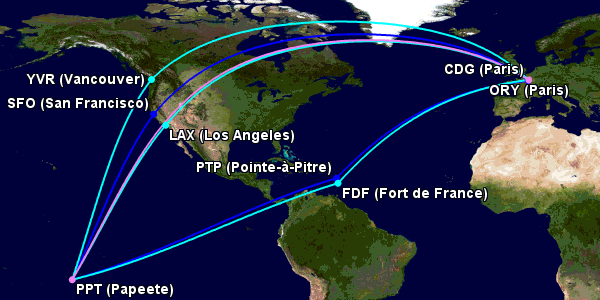 ---
---
Air Tahiti Nui operates a similar route, typically stopping in Los Angeles rather than San Francisco. It will move its services to a tech stop in Vancouver westbound on Saturday and then to Fort-de-France going forward. Much like the Frenchbee flights, the routing via the Caribbean is a wholly domestic operation as those islands are part of France.
But the special flight is the very early Sunday morning departure from Tahiti to Paris. It will not stop in Los Angeles. Neither will it stop in Vancouver nor the French Caribbean.
Indeed, it will not stop at all until it gets to Paris.
As a special, one-off operation flight TN64 will operate from Papeete to Paris as a nonstop segment. While not a regularly scheduled service it will still be a new title holder for the world's longest domestic flight, clocking in just under 9,800 miles.
---
---
Keeping up a positive attitude in Japan
There's something particularly special about the way a ground crew interacts with passengers in Japan. Beyond the fact that there is any interaction at all, it carries the weight of Japanese culture, typically with bowing before all the ground staff wave as planes depart. These days, some of those ground crew are going a little further to make passengers feel welcome and to keep spirits up.
Some photos from last week circulating on Twitter show ground handlers for Skymark on the ramp with large signs, thanking their passengers for traveling.
"Thank you for riding with us even during this difficult time."
"Hokkaido was delicious, right? Come and eat here again!"
"Rescue" flights airborne
While certainly not quite the same as the charter repatriation flights from Wuhan that ran in January, there are still some "rescue" flights operating. British holiday charters carrier Jet2 typically operates a number of flights to Spain's hottest leisure markets. With governments closing their borders to contain the COVID-19 spread, however, the airlines are forced to make tough choices. At mid-day Saturday Jet2 chose to cancel all such trips.
There was just one catch: Many of the planes were already airborne.
The carrier turned those planes around so as to not strand passengers in Spain, but that raised issues for the holiday-makers expecting those planes to bring them home.
Jet2 is now understood to be sending in empty planes to collect those passengers and get them back home. Admittedly not for the best reasons, but still a positive to see that happen so quickly.
---
A favor to ask while you're here...
Did you enjoy the content? Or learn something useful? Or generally just think this is the type of story you'd like to see more of? Consider supporting the site through a donation (any amount helps). It helps keep me independent and avoiding the credit card schlock.
---