Ready to fly the 737 MAX regularly across the Atlantic Ocean? A whole lot of that will be coming starting later this year now that Icelandair took delivery of its first 737 MAX8 aircraft from Boeing.
---
---
The type is slated to serve at least four North America destinations in 2018: Philadelphia, Minneapolis/St. Paul, Halifax and Cleveland.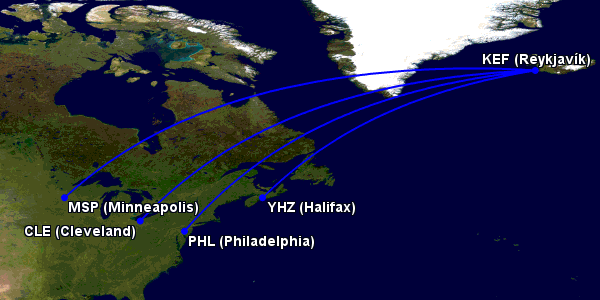 It will also provide service to a dozen destinations in Europe.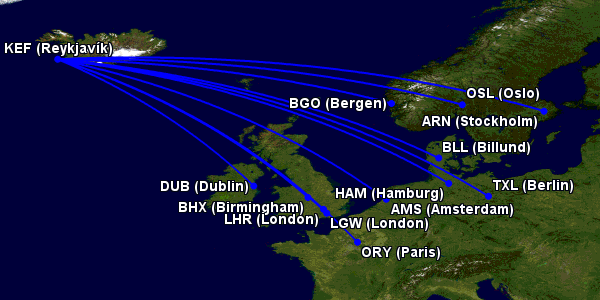 ---
---
The 16 737 MAX aircraft on order for Icelandair – 9 MAX9 and 7 MAX8 – will all receive inflight wifi connectivity from Viasat, taking advantage of the new ViaSat-2 satellite that enters service this year. The new satellite adds coverage over the North Atlantic for the connectivity provider, delivering another option for planes flying the popular transatlantic corridor to get online. Flights that continue on to Continental Europe will take advantage of the company's partnership with Eutelsat for additional necessary coverage.
Hi Seth, we can not disclose that at this time

— Icelandair (@Icelandair) February 28, 2018
When that installation happens remains to be seen. The order announcement with Viasat indicated a retrofit installation plan, explaining why the fuselage lacks a radome at delivery. The carrier declined to confirm that the kit will be installed prior to commercial service.
We can not divulge that information at the moment but we will be able to soon

— Icelandair (@Icelandair) February 28, 2018
With plans to have the plane operating to Berlin-Tegel in early April the timing for getting the kit installed may prove too tight on this first frame. This is one of the risks carriers take with aftermarket installations rather than line-fit solutions. To this point Icelandair was one of only three carriers to be noted as delivering inflight wifi connectivity on all flights system-wide in Routehappy's annual state of the industry report. Virgin Atlantic was also on that list. In that case pulling an A346 out of storage for temporary service this summer broke the streak. For Icelandair it should similarly be a temporary setback.
The aircraft will also feature inflight entertainment systems at the passenger seats.
---
A favor to ask while you're here...
Did you enjoy the content? Or learn something useful? Or generally just think this is the type of story you'd like to see more of? Consider supporting the site through a donation (any amount helps). It helps keep me independent and avoiding the credit card schlock.
---