With demand still lagging JetBlue will delay the restart of service to seven Blue Cities currently suspended. All seven were previously slated to resume service on 6 November 2020. Four of the airports will now restart in April 2021 and two remain suspended indefinitely. Just one will reopen later this year.
The affected airports are:
Palm Springs (PSP) – Reopening 18 December 2020
Baltimore/Washington (BWI) – 1 April 2021
Burbank (BUR) – 1 April 2021
Ontario (ONT) – 1 April 2021
San Jose (SJC) – 1 April 2021
Stewart/Newburgh (SWF) – Indefinite
Worcester (ORH) – Indefinite
---
---
In total a dozen routes from the carrier, planned to relaunch on 6 November, are affected.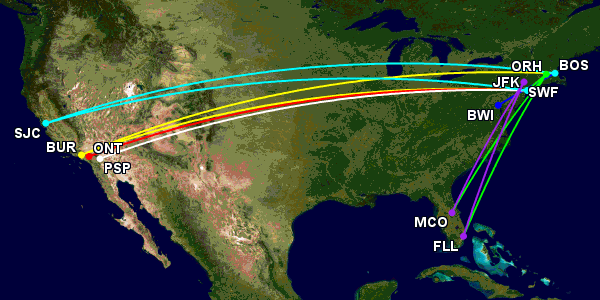 Impacted crewmembers have been informed of the decision and given the option to temporarily shift work to a nearby airport, unpaid leave, or take advantage of a voluntary buyout package from the company.
---
---
These closures could change should a revised payroll support program be passed that requires the stations to reopen, but that seems unlikely. That the company is making the decision and announcement now, before any extension is finalized, is also somewhat telling of the anticipated outcome of that effort.
While some of the affected markets are longer transcon routes the company has not been shy about adding other long flights to the network this Fall. Earlier this week Hartford/Bradley saw four new routes added, for example. And those come on top of transcon adds at Raleigh-Durham, NC and Richmond, VA. And on top of other, less traditional routes announced earlier in the summer. Despite an established history in the other markets JetBlue is betting that these new routes, not necessarily connected to its hubs, will fair better.
And if not they can be trimmed back from the schedule. At this point the number of affected passengers on cancelled/removed flights is low enough it shouldn't matter at all.
---
A favor to ask while you're here...
Did you enjoy the content? Or learn something useful? Or generally just think this is the type of story you'd like to see more of? Consider supporting the site through a donation (any amount helps). It helps keep me independent and avoiding the credit card schlock.
---