JetBlue will cut its Long Beach focus city to just 15 flights a day. The move, first tipped last night, is the latest in a shift of the airline's resources away from the west coast as it optimizes the route network and pushes for greater profitability. The company noted that delivery delays from Airbus are among the factors contributing to the decision to make these changes.
Moves like these – while not easy – will help us as we continue to strengthen our business to better compete against mega-carriers that dominate the industry. Our new schedule will help us improve our profit margins, which is good news for the health of our business and our ability to keep growing and remain an independent force for good.

– Scott Laurence, Head of Revenue and Planning
The announcements include a number of additions to the route network and "connect-the-dots" services as well as routes being cut and one city disappearing from the JetBlue map.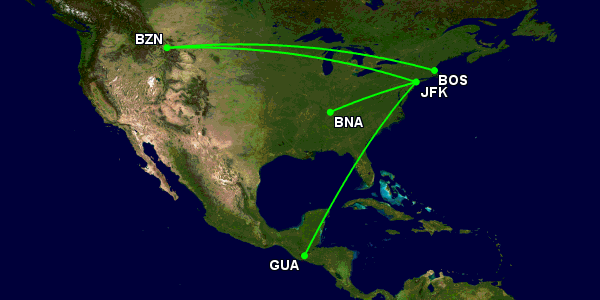 ---
---
The Long Beach situation
Can an airport be considered a hub or focus city with only 15 daily flights? Even at the 22 that Long Beach supported prior to this announcement the situation was less than ideal for that station. Still, JetBlue will maintain its pilot and inflight crew bases at current levels. On the Tech Ops side Long Beach will see cuts but the company expects to "open other opportunities for [those] Crewmembers within the L.A. area," according to an internal memo.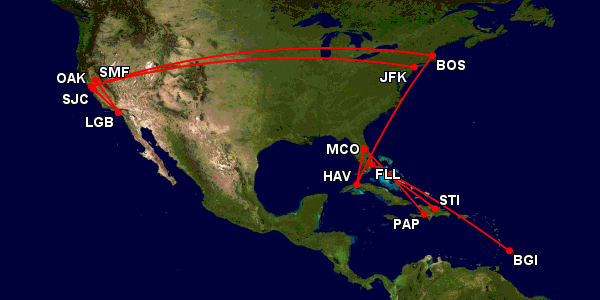 The seven frequencies being dropped from Long Beach are 2x daily to Sacramento, 2x daily to San Jose, 2x daily to Oakland and 1x daily to Las Vegas. Of the four affected cities only Las Vegas will continue to see service from Long Beach. These cuts all take effect on 28 April 2020.
Things could have been much, much worse for the station given its underperforming position. Still, it appears that JetBlue will try to eke out profits from longer routes for the time being.
Oakland is gone
JetBlue operated at Oakland since its early days, using easier and cheaper access to the airport to support its Bay Area operations. But as the carrier matured San Francisco took over as the airport of choice for passengers in the area. The higher yields from the carrier's Mint business class product certainly don't hurt the situation either. With only 1 daily year-round flight to JFK and another seasonal to Boston, compared to multiple daily SFO flights, the station simply was not sustainable. It will close on 28 April 2020.
In a message to crewmembers Scott Laurence, Head of Revenue and Planning, notes, "[T]he landscape has changed, and combined with the Airbus delivery delays we've faced, we've been forced to take an even harder look at our network to ensure we are taking advantage of the best opportunities."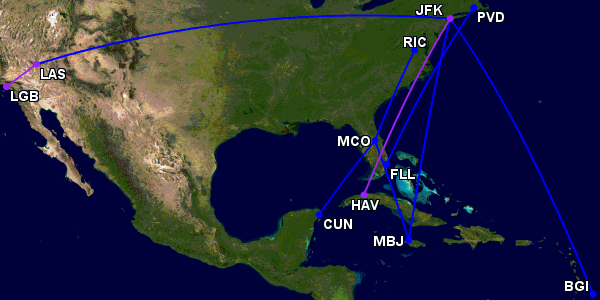 The bad news for Oakland is compounded by Norwegian's announcement late in 2020 that it would cut all its transatlantic service to the airport, also choosing to focus on higher yields and increased customer demand across the Bay.
---
---
Going to Guatemala
Countering the loss of Oakland, JetBlue will add Guatemala City, Guatemala to its map on 1 June 2020. The airport will be served once daily from JFK.
Beyond the new Guatemala service JetBlue will also add a number of seasonal services across the network. Flights to Bozeman, Montana will be available in Summer 2020 from JFK and Boston ranging from 2x weekly to daily depending on the hub and week. JFK will also see an additional flight to Barbados (3x daily) and Las Vegas (5x) in the summer while increasing Montego Bay flights to 3x daily in the winter. Orlando will add a second daily summer seasonal flight to Montego Bay and Cancun, plus a third daily flight to Richmond in the winter. Fort Lauderdale gets a second daily flight to Providence in Winter 2020.
JetBlue will also add JFK-Nashville service 2x daily as a year-round service.
More cuts, too
Other routes will see frequency reductions from the end of April. JFK-Havana converts from daily to Saturday-only while flights from Boston and Orlando to Havana will be dropped entirely. Fort Lauderdale will drop its Barbados and Santiago, DR flights while Orlando loses Port-au-Prince.
So what??
In the end this is a significant reshuffling of routes and service but Oakland ends up the most affected of the Blue Cities, even beyond Long Beach where the concern focused initially. Which is not to say that Long Beach got off easy – jobs are still being cut along with 30% of the daily flights – but it will continue to see a decent number of JetBlue flights for the time being.
It is notable that the company does not see value today in moving the west coast operations to another city; Ontario was tipped as a possible winner if that shift were to occur.
The reduction of Long Beach service from Sacramento and San Jose also leaves those airports with only their transcon operations. If the performance of the routes does not improve they could be at risk of closure as well.
---
A favor to ask while you're here...
Did you enjoy the content? Or learn something useful? Or generally just think this is the type of story you'd like to see more of? Consider supporting the site through a donation (any amount helps). It helps keep me independent and avoiding the credit card schlock.
---