JetBlue will further trim its Summer 2022 schedule. The carrier plans "further tweaks" to the network, in response to elevated fuel prices and in support of its reliability goals.
In a message to crewmembers the company describes the moves as "freeing up aircraft to both support operational reliability and to improves schedules elsewhere in the network." It does not explicitly mention staffing, though that has been weighing on reliability over the past few months more than aircraft availability.
The moves also build on cuts made in April to reduce about 10% of the company's summer schedule.
---
---
The changes are covered in three categories: new cuts, extending previous cuts, and routes which will not launch at all.
New, partial season cuts
The following routes will be trimmed as of the effective dates noted. Cancun is particularly affected, as is Fort Lauderdale.
Boston – Rochester (effective July 1)
Fort Lauderdale – Austin (effective July 1)
Fort Lauderdale – Nashville (effective July 1)
Fort Lauderdale – New Orleans (effective August 1)
Fort Lauderdale – Philadelphia (effective July 1)
Fort Lauderdale – Phoenix (effective August 1)
Fort Lauderdale – San Diego (effective August 16)
Hartford – Cancún (effective August 22)
Hartford – Tampa (effective July 1)
Los Angeles – Cancún (effective August 16)
Orlando – Nassau (effective August 1)
Raleigh – Cancún (effective August 10)
Tampa – Cancún (effective July 11)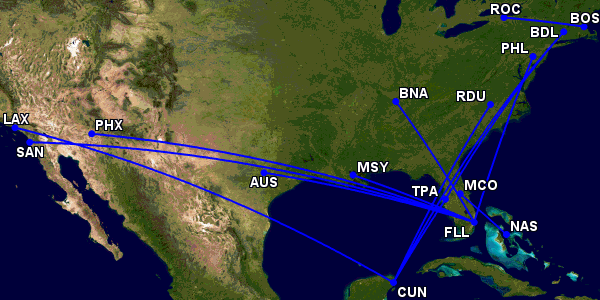 ---
---
Extended cuts through the summer
The following routes were already trimmed for part of the season. JetBlue will now not operate them at all for the rest of the summer.
Boston – San Jose, Calif.
Fort Lauderdale – Atlanta
Fort Lauderdale – Buffalo
Fort Lauderdale – Aguadilla
Hartford – Palm Beach
Los Angeles – Richmond
Los Angeles – Seattle
Orlando – Syracuse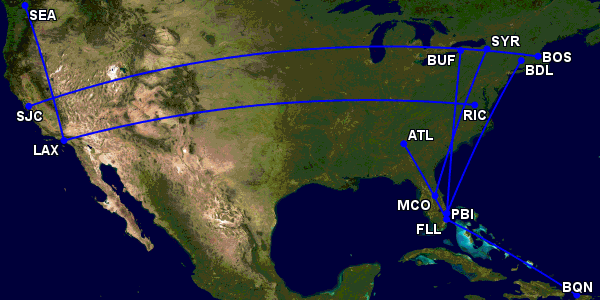 Markets not launching at all
Finally, the Boston-Vancouver route will not operate at all in 2022. The carrier will reroute passengers via the JFK service instead. The carrier will also not relaunch seasonal service to Montrose/Telluride (MTJ).
Inflight crew frustrations
Just as the flight cuts were announced, JetBlue's flight attendant union sent a letter to President Joanna Geraghty, bemoaning the use of "punishment, fear, and intimidation" being used to increase productivity from the work group.
Critical Coverage days – where call outs are handled more punitively, continue to grow. The union sees it as a more hostile work environment, one where "the stick now far outweighs the carrot, and Critical Coverage points and restrictions have only discouraged IFCs and hurt the operation."
Additional Critical Coverage days are not working and are having the opposite of the intended effect. We keep having more days piled on and the punishments get harsher, but this has not improved our staffing problems. In fact, these changes have only exacerbated the Company's failure to adequately staff the airline for the necessities of the operation.
The union also notes that many crewmembers are on "Final Progressive Guidance" tied to attendance issues and at risk of termination. Many more have already been terminated, "as a result of the vast expansion of Critical Coverage Days, which are exponentially greater in number than any other commercial carrier."
Reducing the schedule further this summer should help alleviate some of these staffing challenges. But it will take time to heal the growing rift between management and the employees, even once those issues are resolved.
Read More:
---
A favor to ask while you're here...
Did you enjoy the content? Or learn something useful? Or generally just think this is the type of story you'd like to see more of? Consider supporting the site through a donation (any amount helps). It helps keep me independent and avoiding the credit card schlock.
---