JetBlue and Spirit Airlines received permission to remove as many as 16 destinations from their route US networks and still maintain compliance with the CARES Act. This lets the airlines reduce their service while still remaining eligible for the Payroll Support Program grants that help fund employee costs through 30 September 2020. Both airlines are permitted to halt service to their approved destinations immediately.
With new US Department of Transportation guidelines detailed in approvals for Sun Country, Frontier and Cape Air the approvals for other small airlines were assumed to be a sure thing, at least for a subset of specific airports. While all airlines are still required to maintain service at most destinations smaller carriers (i.e. not American, Delta, United, Southwest) can cut operations in 26 markets: Atlanta, Boston, Charlotte, Chicago, Dallas/Ft. Worth, Denver, Detroit, Honolulu, Houston, Las Vegas, Los Angeles, Miami, Minneapolis/St. Paul, Nashville, New York City, Orlando, Philadelphia, Phoenix, Portland, Salt Lake City, San Diego, San Francisco, Seattle, St. Louis, Tampa, and Washington, DC.
With this guidance in hand JetBlue and Spirit applied for new exemptions on 28 April and were rewarded with approvals on 5 May 2020.
---
---
JetBlue can cut 16 airports
JetBlue applied for permission to remove or reduce service at 16 airports across the country.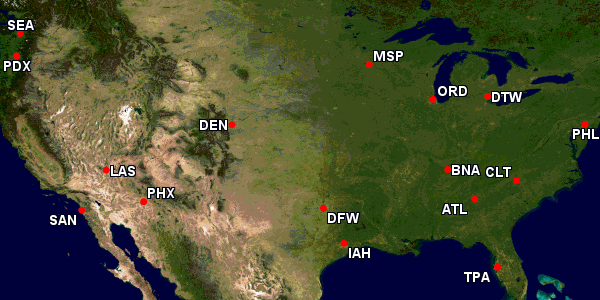 The DOT approved the requests for all 16, allowing the carrier to drop flights immediately. Doing so could affect some services that are not exempt, however, requiring JetBlue to rejigger its planned "tag" flights for many destinations.
The carrier previously announced intentions to add tag flights for service to Portland (PDX), San Diego (SAN), Minneapolis-St. Paul (MSP), and Houston (IAH). Those tags could all be dropped given these approvals. Denver (DEN) could also be dropped per the ruling, but that would potentially impact planned tag flight service to Albuquerque (ABQ).
---
---
Spirit approved for six cuts
Spirit's ask was relatively small compared to JetBlue's, with only six airports included in the request.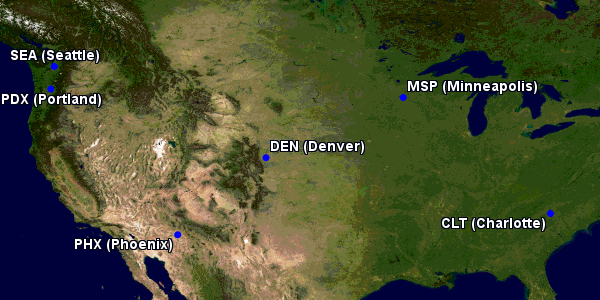 It received approval for all six, effective immediately.
Much like JetBlue's position, the carrier now can alter its planned "triangle" routes to remove some of these destinations. Portland (PDX) and Seattle (SEA) were to be served via Las Vegas (LAS). Charlotte (CLT) was to be tagged with Raleigh-Durham (RDU); that route can now operate directly.
Spirit Airlines also applied this week for further cuts at smaller airports, citing the leniency shown by the DOT to Allegiant. The carrier wants some of its smallest markets removed or reduced.
Spirit issued a statement regarding the approval, noting it will accommodate affected passengers and expects to return to all six markets eventually:
We're thankful for the review of our temporary waiver requests as part of the minimum service requirements included in the CARES Act, and we appreciate the waivers for Charlotte (CLT), Denver (DEN), Minneapolis/St. Paul (MSP), Seattle (SEA), Portland (PDX) and Phoenix (PHX). We will proactively take care of our Guests whose travel is impacted by future schedule changes and fully comply with the U.S. Department of Transportation requirements. We're also incredibly proud of our Team Members for all their efforts as we navigate this unprecedented time. The health and safety of our Guests and Team Members continues to be our highest priority, and we look forward to returning to our destinations after a temporary suspension and adding more flight options as the demand for travel returns.
Timing for when Spirit will suspend the service will be managed on a per-airport basis by the carrier.
---
More on CARES Act routes and and the airlines affected
---
A favor to ask while you're here...
Did you enjoy the content? Or learn something useful? Or generally just think this is the type of story you'd like to see more of? Consider supporting the site through a donation (any amount helps). It helps keep me independent and avoiding the credit card schlock.
---