Mexico's President want to see more competition in the domestic air travel market. He proposes to allow foreign airlines to operate within the country – service known as cabotage – competing against the local incumbents.
The proposal by President López Obrador aims to address high domestic airfare, and also to boost markets served within the country. But will they show up??
Three large airlines – Aeromexico, Viva Aerobus, and Volaris – operate within Mexico. It is only three carriers, but that's more than most countries have had in the past when choosing to allow cabotage.
---
---
Which routes?
It is true that 41 city pairs flown in October 2019 are not on the October 2022 schedule, according to Cirium data.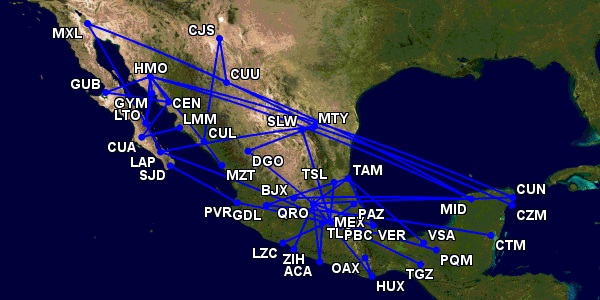 But 36 new city pairs have been added within the country in the same timeframe. Moreover, only 10 of the routes lost operated with a daily frequency or higher. More than half operated fewer than 4 days per week. Conversely, 13 of the routes added fly daily or more. So even with the pandemic and loss of an airline, more rotes within the country are flying daily today.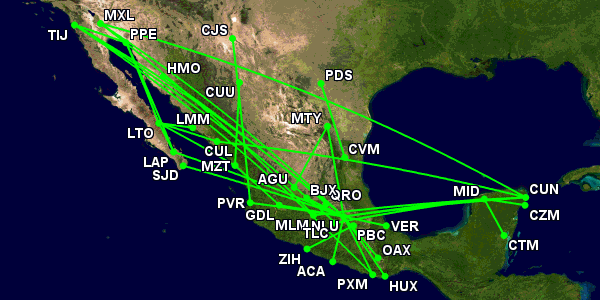 Similarly, the loss of InterJet as an operator has reduced the total number of domestic flights by about 5%. But the airlines flying today are doing so with larger planes, to the tune of 11.9% more seats in the sky and 22.9% more seat miles flying.
---
---
Which airlines?
Perhaps the even more important question is which foreign airlines might consider operating in the market. It seems unlikely, for example, that a US airline would try to enter. For one thing, the country's level 2 safety rating from US authorities would preclude such actions. Beyond that, however, the operating cost structures would seem to suggest an environment where a US airline would have significant difficulty competing on fares.
Perhaps some of the larger players in Central America could make a go of it. At this point, however, it is unclear that any airline has significant spare capacity that it would look to shift into a foreign market, rather than shoring up operations at home.
It is also unlikely that a foreign carrier would choose to connect two secondary or tertiary markets, the type of competition López Obrador appears keen to induce. Instead they would focus on the larger cities, or at least connecting a larger city to a midsize one. That's typically where greater demand is from passengers, and running routes less than daily from a remote base is significantly more complex.
The proposed Allegiant/Viva Aerobus joint venture also speaks to the challenges foreign airlines would face attempting to build a presence in the domestic Mexican market. Those two airlines – each well known and established in their home country – believe a lack of brand recognition in the foreign country grossly impedes sales at one end of the journey. Building with that gap at both ends of a route is even more challenging.
---
López Obrador famously halted construction on the new mega airport to serve Mexico City, preferring to repurpose an existing air force base into Felipe Ángeles International Airport instead to augment capacity in the area. Airlines have been slow to add capacity there, however, with approximately 30 daily departures this month, compared to approximately 350 at the main airport.
Any airline adding new service to Mexico City would, presumably, choose this new airport option; useful slots in Benito Juarez International (MEX) are nearly impossible to secure. That could be part of the motivation for this plan. But, again, would a new entrant pick the less popular airport that even local airlines have had trouble developing, while hoping to attract travelers with lower fares? That seems an unlikely business success story.
All of which is to say, there's a pretty good chance that even if cabotage becomes legal in Mexico, foreign airlines will be slow to show up. And when they do they're highly unlikely to bring cut-rate fares to secondary cities or dive in to unproven markets.
---
A favor to ask while you're here...
Did you enjoy the content? Or learn something useful? Or generally just think this is the type of story you'd like to see more of? Consider supporting the site through a donation (any amount helps). It helps keep me independent and avoiding the credit card schlock.
---