Norse Atlantic Airways aims to replace a trio of Norwegian's long-haul routes across the Atlantic Ocean next summer. In a filing with the US Department of Transportation the carrier indicated its intention to serve smaller, alternate airports in the New York City, Los Angeles, and South Florida regions from Oslo.
The general destinations are not too surprising, but the specific airports chosen might be. Rather than competing in the larger airports in each market the company chose Fort Lauderdale, Stewart/Newburgh, and Ontario for its flights.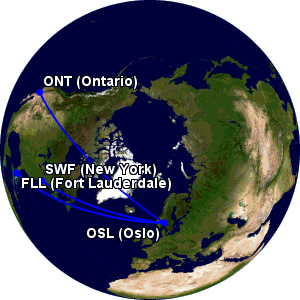 ---
---
The carrier plans to launch service in "Summer 2022" though specific dates remain unclear. It anticipates receipt of its local operating certificate from Norway's aviation authorities in early November.
Norse Atlantic expects to inaugurate operations with a trio of 787 Dreamliner aircraft in its fleet. They will fly in a two-class configuration, economy and premium economy, just like they did when serving Norwegian's long-haul fleet.
The company also went out of its way to avoid Union objections Norwegian faced when trying to enter the market. Its application to the US DOT highlights a pre-hire agreement with the Association of Flight Attendants-CWA, AFL-CIO (AFA).
In the words of AFA President Sara Nelson, "This is what respect for workers and our unions looks like."
---
---
Whether this is enough to sate Representative DeFazio's ire at the Norwegian approval remains to be seen. He previously suggested the DOT "correct the error of 2016 and deny this airline's application."
The company spends much of the application essentially pandering to the Department, working to convince regulators that its presence in the market is necessary to ensure competition and consumer benefits.
---
The decision to launch from Oslo makes sense given the company's Norwegian roots and availability of slots from which to operate. Slot availability almost certainly also contributes to airport selection on the US side, though other cost factors certainly play a role.
It also means the carrier will not initially serve the US from London, where demand historically proved much more significant, and where Norwegian claimed its routes performed far better financially. Indeed, the Scandinavian long-haul routes were slashed even before the COVID pandemic finally forced Norwegian to shutter its long-haul operations.
Competition is depressed, perhaps, but so is demand. Perhaps a faster rebound of leisure and visiting friends & relatives traffic can bolster a low cost carrier in the market better than before, while the full service airlines slow-roll their recovery.
Expect the London routes to shop up eventually, however, as the airline's fleet expands. The company highlighted both London and Paris in an August briefing and signed an agreement with BALPA last week to bring crew jobs to the UK.
Plus, getting slots at Gatwick is easier now than two years ago given the drop in service levels and other airline bankruptcies along the way.
---
A favor to ask while you're here...
Did you enjoy the content? Or learn something useful? Or generally just think this is the type of story you'd like to see more of? Consider supporting the site through a donation (any amount helps). It helps keep me independent and avoiding the credit card schlock.
---