Norwegian will not fly its 787s from London to Las Vegas this winter. The carrier confirmed that its seasonal service, initially launched in 2016 will not return this year. In a statement the airline said the decision was driven by a move "from expansion to profitability" and a review of the route's performance.
This is the second time Norwegian trimmed its London-Las Vegas route. The 2016 launch called for a year-round operation but that scaled back to seasonal almost immediately. At the time the carrier blamed the hot summer weather in Las Vegas for reducing aircraft performance and causing significant delays to its flights. But the routes operated in the winters from 2017 to 2019. For 2020 the weather is no longer the issue; profitability is.
The carrier will also drop its Stockholm-Orlando route as part of its efforts to drive profitability.
---
---
The profitability push is showing some promise. For June 2019 the carrier reported a 10% increase in unit revenue year over year. That number is helped by reduced LCC competition across the Atlantic – WOW and Primera are out of the picture – plus flying more mature markets. Only Hamilton, Ontario is a new destination in North America for the carrier this summer, while Rio de Janeiro is a new destination in South America this year. Norwegian's unit revenue also benefits from lower capacity expansion than planned, tied to the grounding of the carrier's 737 MAX fleet.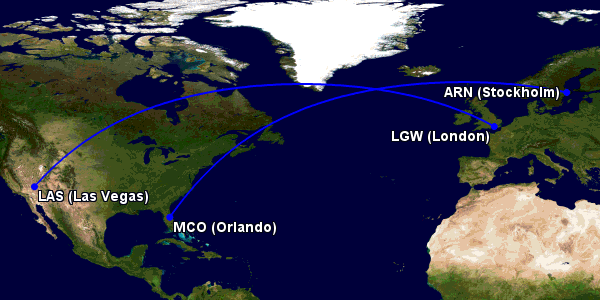 While Las Vegas often drives high volumes of passengers the market is highly price-sensitive on airfares. Strong vacation package offerings from Virgin Atlantic and British Airways, Norwegian's two competitors on the non-stop London service, also likely contribute to adverse performance for the route. While the high share of price-sensitive customers theoretically works within Norwegian's long-haul LCC business model the carrier is choosing to pursue growth on routes that bring greater potential to the overall network.
---
---
The carrier will also suspend a number of additional routes for the winter season. Plans call for 37 fewer weekly flights between the US and Europe for winter 2019/2020 compared to the prior year.
Matthew Robert Wood, Senior Vice President Commercial Long-Haul and New Markets, describes the necessity of the shift to help support other growth, "After a thorough review of our long-haul network and given that some U.S. markets are highly seasonal, it is a natural step to focus our operations this winter on counter seasonal routes that are more profitable, such as Asia, and also looking into growing our South America network." Norwegian's transatlantic cuts come on the heels of Eurowings announcing that it will cut all its long-haul LCC service over the next couple years. While long-haul LCC is not yet dead it certainly faces increased scrutiny from investors.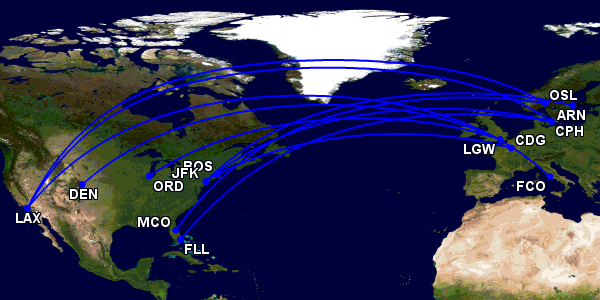 Seasonal routes affected for Norwegian this winter include:
Boston – Paris
Chicago – London
Denver – London
Fort Lauderdale – Copenhagen
Los Angeles – Copenhagen
Los Angeles – Oslo
Los Angeles – Rome
New York JFK – Copenhagen
New York JFK – Stockholm
Orlando – Oslo
The carrier cannot grow as much as it would like into Asia owing to restrictions from Russia on trans-Siberian overflights and the South America market, while growing, will not consume all of the frames freed from the suspension of these routes. The increased slack in the fleet could be used to speed installation of Norwegian's new inflight wifi solution, improve operational reliability or operate new, yet-to-be-announced routes.
Separately, the company announced that its flights from Barcelona and Paris to the Bay Area will shift from Oakland to San Francisco in the winter season. The company's summer seasonal service to Oslo, Rome and Stockholm will remain at Oakland.
---
A favor to ask while you're here...
Did you enjoy the content? Or learn something useful? Or generally just think this is the type of story you'd like to see more of? Consider supporting the site through a donation (any amount helps). It helps keep me independent and avoiding the credit card schlock.
---