Get ready for another global airline in Saudi Arabia. The country's Public Investment Fund (PIF) officially launched Riyadh Air on Sunday, aiming to "leverage Saudi Arabia's strategic geographic location between the three continents of Asia, Africa and Europe, enabling Riyadh to become a gateway to the world and a global destination for transportation, trade, and tourism."
The management structure will be similar to most other global airlines in the Middle East. A local representative sits atop the hierarchy as Chairman, while the actual leadership comes from outside. In this case, the CEO will be Tony Douglas, formerly CEO of Etihad, among other experience in the industry. Douglas was tapped to lead the company last October. Earlier this year rumors swirled that he broke ties with the PIF. Apparently those issues are now resolved.
The carrier plans a rapid expansion, with 100 destinations served by the end of the decade. The Wall Street Journal reports that Boeing stands to secure a significant order as the carrier launches.
---
---
Growth in aero connectivity at Riyadh is not a new concept for the Saudis. In early 2016, as new terminals were opening Saudia (the existing national airline) was expected to drive growth very similar to what is now expected from Riyadh Air. Why a new airline now to get to that goal? There are no clear answers to that query. Saudia appears to believe some cooperation is in the cards, but that's also rather vague.
The country plans for massive growth at the Riyadh airport, expanding to six parallel runways and annual terminal capacity for 185 million passengers by 2050. But that still does not explain the need for a new airline organization.
Perhaps by launching as a new airline Riyadh Air will have the opportunity to adopt services more akin to those of global airlines, including serving alcohol on board. The last time Saudi officials hyped the potential to exist as a connecting hub, however, that was not in the cards. And, perhaps, not entirely necessary. But it is a notable consideration given the carrier's stated goals.
---
---
Launching a new airline is no easy feat. The fresh cash commitment from PIF certainly gives the company a chance. So does the shifting economics that sees billions of potential travelers within the Europe/Africa/Asia sphere the company aims to serve initially. But Riyadh Air is far from guaranteed success on that front. It will face stiff competition from incumbent long-haul operators as well as operations like Wizz Air Abu Dhabi, flying high density single-aisle planes with incredibly low operating unit costs into many of the same markets. Or from existing full service carriers like EL AL that seek to expand their connecting opportunities.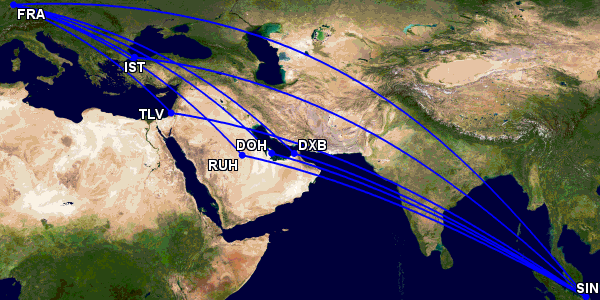 Riyadh is relatively well positioned to handle connecting flows, though it is not best positioned between Europe and Asia. Where Istanbul benefits for those markets, however, it also drops a bit for geographic proximity to most of Africa. Turkish Airlines does not seem to mind, however, as it continues to expand its route map into the continent.
Ultimately a new global airline connecting traffic via Saudi Arabia will face plenty of challenges. Fresh cash and low operating costs to start always benefit a new airline, but those rarely last beyond a few years. And eventually the PIF will be forced to decide if it really wants to continue pumping cash into the operations in the face of a significant, well established competitive landscape.
Even considering the spend as an investment in adjacent revenues (e.g. supporting the tourism or industrial sectors) is far from a sure thing.
---
A favor to ask while you're here...
Did you enjoy the content? Or learn something useful? Or generally just think this is the type of story you'd like to see more of? Consider supporting the site through a donation (any amount helps). It helps keep me independent and avoiding the credit card schlock.
---