Previously tipped for a 2019 launch, RwandAir is once again planning flights to the USA. The carrier filed its application with the US Department of Transportation this week to operate service to New York on its own A330s. It anticipates beginning the operations in December 2021.
RwandAir represents the continued evolution of the aviation system of Rwanda and will be a highly qualified and well capitalized entrant into the newly-developing U.S. – Rwanda aviation market.
---
---
The flights from Kigali to JFK will operate via Accra, Ghana. The extra stop does adds only 3% additional miles flown, while also allowing RwandAir to pick up some additional traffic in the Ghana-US market.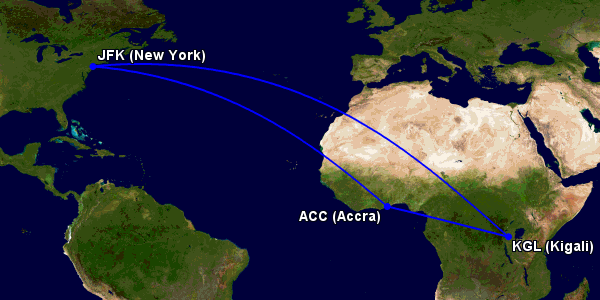 That route sees competition from Delta Air Lines and Ethiopian has also historically operated on the route, connecting to its Addis Ababa hub.
The carrier operates both the –200 and –300 models of the A330, with similar interior configurations. Both planes feature the Thompson Aero Vantage XL lie-flat beds in business class as well as premium economy and economy class cabins. The A330-300 seats 30 more passengers than the –200, 10 extra up front and 20 more in the back.
---
---
The carrier already holds the necessary rights to market flights to the USA via code-share partners. Approval is required, however, to transition that to operating the routes on its A330s.
The plan also requires that Rwanda be listed as a Category 1 carrier under the FAA's International Aviation Safety Assessment (IASA) Program. That audit was supposedly completed in 2018 but the final rating was not issued. The carrier notes that the requested authority will not be valid until "Rwanda successfully achieves an IASA Category 1 rating."
---
A favor to ask while you're here...
Did you enjoy the content? Or learn something useful? Or generally just think this is the type of story you'd like to see more of? Consider supporting the site through a donation (any amount helps). It helps keep me independent and avoiding the credit card schlock.
---