Dulles may finally see some real traffic growth from United Airlines. The carrier announced schedule changes today for the Fall 2018 season that will see the Newark hub transition to focus more on local (O/D) traffic while Dulles will see growth for a few routes that carry more connecting travelers. The new schedules take effect on 4 October 2018.
The schedule adjustments are designed to offer more nonstop flights to destinations popular with New York area customers while reallocating largely connecting passenger flights on short-haul routes to United's hub at Washington-Dulles. United will transition service between New York/Newark and Chattanooga, Tennessee; Ithaca, New York, and Scranton, Pennsylvania to Washington-Dulles.
We approached these schedule adjustments with our customers in mind, knowing that we wanted to create a schedule that offers customers beginning their travel in the New York City area convenient flights to many of the business and leisure destinations they frequent the most. Since more of our customers begin their travel from New York/Newark than any other United hub city, we've created a more customer friendly schedule that removed connection times and provided convenient nonstop service to multiple U.S. destinations. – Ankit Gupta, United's Vice President of Domestic Network
---
---
In Newark some 15 destinations are seeing an increase in service frequencies and, in some cases, upgauge in aircraft size.
The airport will also see six smaller markets dropped. In addition to the three mentioned as transitioning to Dulles United will halt service from Newark to Des Moines, Baltimore and Hartford. While the shift toward the O/D market traffic is part of the story, so is the adjustments in the operating circumstances at Newark Airport in the past couple years.
---
---
Playing the slots??
In April 2016 the FAA removed slot controls at Newark. This reduced the value of United's portfolio of slots. It also meant that the carrier no longer needed to publish routes that would more frequently be delayed or canceled when ATC or weather limitations required the airline to reduce operations at the airport. Put another way, these six destinations were, in many ways, never really expected to fully contribute to the hub passenger flows at Newark so much as to be easily sacrificed when needed. And those shorter hops were easier to cancel and accommodate passengers.
Of course, with the increase in flights to other markets United is still using a similar number of slots but now is expecting more NYC-related traffic on those planes. It will be somewhat harder to handle reroutes or cancellations should those come to pass. With additional frequencies in those markets, however, the later flight rebooking option may prove sufficient.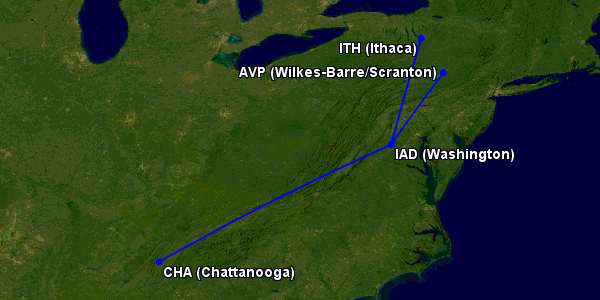 It is also worth noting that the connectivity growth at Dulles comes, at least initially on the CRJ-200. These are not the ideal aircraft for passenger comfort and betting on them to build out the network is a rough position to be in.
Separately, the carrier also announced seasonal service to Palm Springs from Newark, competing with the JetBlue JFK route that showed strong performance the past few years. United will also make its seasonal Key West service year-round from Newark.
---
A favor to ask while you're here...
Did you enjoy the content? Or learn something useful? Or generally just think this is the type of story you'd like to see more of? Consider supporting the site through a donation (any amount helps). It helps keep me independent and avoiding the credit card schlock.
---