Air China wants to radically alter its route network to the United States. Facing a dramatic drop in traffic, as well as restrictions around passengers who can be admitted to the USA, the carrier is proposing to slash the cities served and the flight frequencies. It also is seeking a rather unconventional overall operational plan.
Air China's goal is to maintain critical and essential air connectivity between China and the United States during this difficult time in the most economical way.

-From the DOT application for the new services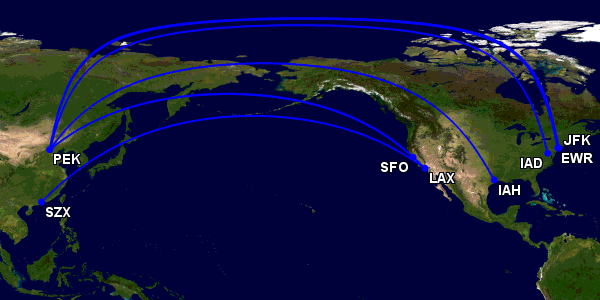 ---
---
In a filing today to the US Department of Transportation Air China requested an exemption to operate just two routes moving forward: Beijing-Los Angeles-San Francisco and Beijing-JFK-Dulles. The carrier is not seeking cabotage rights for the domestic flights; no local passengers nor cargo will be carried on those routes. The west coast service will operate four days per week while the east coast will operate three weekly trips.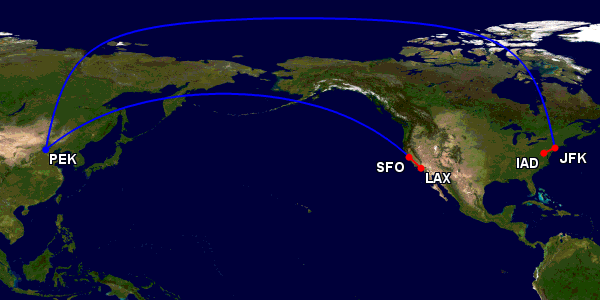 The carrier seeks permission to operate the modified routes for at least 180 days.
---
---
Assuming the DOT approves the application the routes will operate with a Boeing 777-300 aircraft beginning on 11 February 2020 to Los Angeles and San Francisco. The New York/Washington, DC route would launch the following day.
The proposed flight times would include a 3:30 layover for passengers in Los Angeles for those continuing to San Francisco. At JFK the layover time would be 1:40 before continuing to Dulles. It is unclear if Air China expects to be able to clear transit passengers through immigration and customs (and any associated health screenings) during that time, particularly at JFK, or if it hopes the flights will be treated as international arrivals in all cases. The latter would be unprecedented in recent years for service in the US market. The former seems unlikely to be viable in terms of time required at JFK, though given the expected very low passenger loads maybe it could work.
With the US carriers already cutting their China schedules and other Chinese carriers also trimming operations this could prove to be a viable way to keep some flights running between the two countries. Just how much the flights are needed is unclear, however as demand in the market has cratered. Still, some flights are better than none.
---
A favor to ask while you're here...
Did you enjoy the content? Or learn something useful? Or generally just think this is the type of story you'd like to see more of? Consider supporting the site through a donation (any amount helps). It helps keep me independent and avoiding the credit card schlock.
---