Breeze Airways launched promising point-to-point service, saving passengers time and money versus connecting in major hubs. With latest Breeze schedule update, however, the company adds a twist – or connection – to that plan.
Breeze still does not sell connecting flights in the traditional sense. But the carrier's new "BreezeThrough" product allows it to sell one-stop, direct service on routes where the plane is continuing anyways.
Even with the extra stop many of the flights tend to match competitive timings. After all, in most markets other airlines also require a connection in a hub somewhere, often with a less efficient connection time.
---
---
More than that, however, the approach allows Breeze to project a much larger operational footprint than were it to only offer the nonstop options. And this sort of appearance matters when trying to compete in these new markets.
Reviewing the most recent schedule data reveals nearly 30 "BreezeThrough" routes on offer. Some overlap where Breeze also flies nonstop. In the Norfolk-Los Angeles market, for example, Breeze will fly nonstop three times weekly beginning this summer. But the carrier advertises daily service on its website.
This is made possible by BreezeThrough service. Passengers will connect in Providence, RI or Jacksonville, FL on the days where non-stop route is unavailable.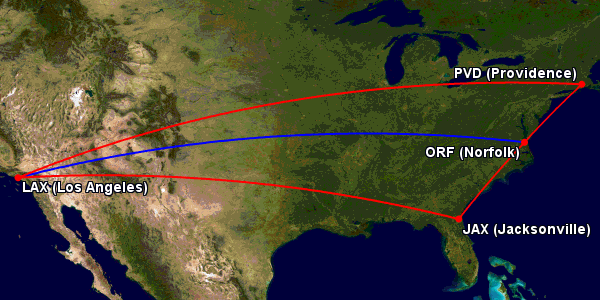 ---
---
In other markets the options allow Breeze to offer multiple daily services between cities. Charleston to Las Vegas will operate nonstop beginning in August, for example. With the BreezeThrough option, however, passengers may connect via as many as five different connection points, depending on the day of week and season.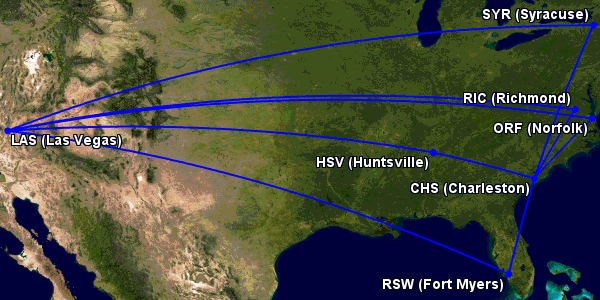 Double daily flights, including with the connection, are common on the schedule, though no service between Charleston and Vegas on Tuesdays.
Tampa to San Francisco is another route with multiple BreezeThrough options, allowing the airline to sell the route six days per week, without ever operating it nonstop.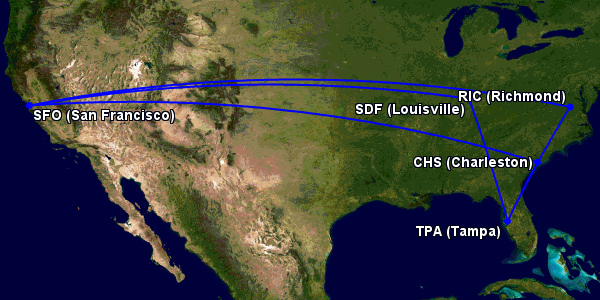 That route does have nonstop competition from United Airlines and Alaska Airlines, something Breeze tries to avoid when entering markets.
Shorter hops, too
BreezeThrough options don't only cover long-haul operations. Charleston, Hartford, and New Orleans each will see a half dozen shorter markets also connected this way.
Some of these seem bizarrely out of the way. Others simply allow Breeze to market service in nonstop markets on days where the nonstop doesn't fly (e.g. CHS-ISP v CHS-ORF-ISP).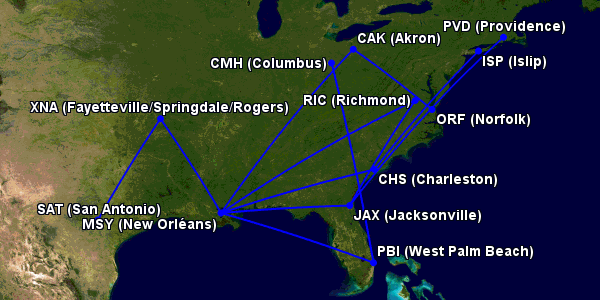 Several of the Norfolk direct options allow the company to expand the days or times service is offered, augmenting the nonstop flights to Columbus and Norfolk.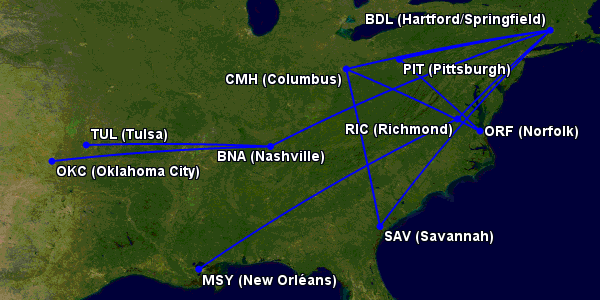 ---
The benefits to the airline are pretty obvious. It can grow its presence and appear much larger than perhaps it really is, with minimal increased operational complexity. Breeze does have to consider per-segment revenue and the additional pricing challenges that connections require. These BreezeThrough trips are not simply the sum of the two segment fares. Still, the company avoids most of the day-of-travel challenges, such as moving bags between flights or rerouting passengers at a connection point after a delay or cancelation.
The benefits for travelers are less clear. The company does a pretty good job of identifying the "BreezeThrough" connection on the search results page of the booking interface. But travelers only pick one seat, rather than two. After all, they just stay on the plane at the connection, so no need to change. And, at least for now, these flights aren't showing on third party or metasearch sites. That reduces the risk of a passenger accidentally booking one and not realizing it stops.
Direct flights are far from perfect. In most ways they're probably less good for passengers than the same exact flights sold as a connection. But for an airline that doesn't offer connections, it is an interesting option. And Breeze has plenty of them for travelers to consider.
---
A favor to ask while you're here...
Did you enjoy the content? Or learn something useful? Or generally just think this is the type of story you'd like to see more of? Consider supporting the site through a donation (any amount helps). It helps keep me independent and avoiding the credit card schlock.
---