Add another 7 Caribbean island routes to the Frontier Airlines route map. The latest expansion is part of a 15-route growth spurt and includes a new island destination – Aruba – as part of the plans.
We continue to focus on adding service to markets where our 'Low Fares Done Right' approach benefits customers and stimulates demand with affordable fares and convenient service.

– Daniel Shurz, SVP of Commercial
---
---
Miami will see the greatest share of new routes, with nine destinations added. Included in these are Turks & Caicos, as well as the carrier's first service to Aruba. The latter will fly just once per week, at least to start.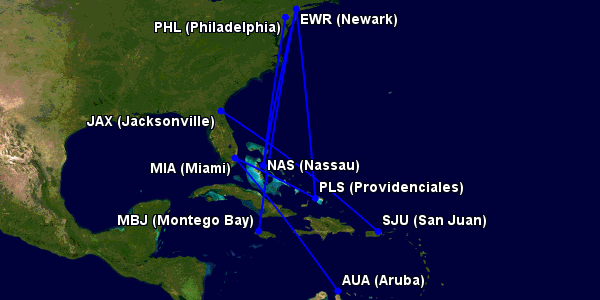 From a Caribbean growth perspective Newark is the big winner with this announcement. The airport will add a trio of markets, just in time for Christmas:
Montego Bay, Jamaica (MBJ) launches Dec. 17, 2021, operating 3x Weekly
Turks & Caicos Islands (PLS) launches Dec. 18, 2021, operating 1x Weekly
Nassau, Bahamas (NAS) launches Dec. 19, 2021, operating 3x Weekly
Jacksonville, Florida will add service to San Juan while Philadelphia adds flights to Nassau, Bahamas, each operating 3x weekly.
---
---
The carrier announced four other new Caribbean markets just a week ago. And that news came on the heels of its inaugural service to St Maarten last month.
The new routes are all less than weekly and focused on the peak winter season, at least for now. But expect that they can expand based on comments the company has made in recent months.
In 2019, before the pandemic disrupted the company's growth plans, Frontier operated roughly 11% of its capacity into the Caribbean. This winter that will reach 15%, and not because other markets are shrinking.
By 2024 the company hopes to have 20% of its ASMs flying into the region. This traffic will mostly come from Florida. But, as seen from this round of route expansion, Philadelphia and Newark play a sizable role with particularly strong VFR (visiting friends & relatives) markets.
Frontier's growth in the northeast will also be boosted by avionics retrofits. In order to fly more direct, overwater routes to the islands the aircraft require new communications hardware on board.
With the upgraded comms systems – expected on a subfleet by the end of 2022 – those flights will operate more direct, saving fuel, time, and crew costs.
More on Frontier's major Caribbean push:
---
A favor to ask while you're here...
Did you enjoy the content? Or learn something useful? Or generally just think this is the type of story you'd like to see more of? Consider supporting the site through a donation (any amount helps). It helps keep me independent and avoiding the credit card schlock.
---