Over the weekend Qantas brought another 787-9 home to its fleet in Sydney. But this was not a normal delivery flight. Instead, the carrier ferried the aircraft to JFK and then flew it nonstop from New York City to Sydney. It is the second longest distance flight by a commercial passenger aircraft and the first of three test flights the airline will run in the waning months of 2019 for "research" about the impact of ultra-long haul travel. It was also an incredible media spectacle.
We're now a couple years in to Qantas talking up the idea of operating nonstop from Eastern Australia (Sydney/Brisbane/Melbourne) to London and New York City. The carrier has Airbus and Boeing sharpening their pencils and refining plans to potentially deliver a tiny sub-fleet of aircraft configured to fly that far economically with a full complement of passengers. CEO Alan Joyce is keen on the potential, but also admits that the business decision could turn against the program, depending on fuel costs, aircraft loads and other factors. Plus, there's the part where it isn't really that much longer than some other commercial flights that run today.
Ultra-long haul flying presents a lot of common sense questions about the comfort and wellbeing of passengers and crew. These flights are going to provide invaluable data to help answer them.

– Qantas CEO Alan Joyce
---
---
The test flight, QF7879, took 19 hours 15 minutes to cover the 9,950 miles (LHR is 10,573 and was previously flown once by a 747 as part of a similar marketing/delivery stunt). Since August 1st Singapore Airlines' SQ 21 from Newark to Singapore took more than 18 hours in the air 13 times to cover the 9,534 miles. Yes, the Qantas flight was more than an hour longer in this case and maybe didn't face the worst of headwinds, meaning it could still push longer. But does that extra hour really matter?
Does it matter enough to justify the claims of a custom menu designed to stimulate the appropriate awake and sleeping times? Especially when that menu appears – from passenger reports – to have been focusing on the idea that spicy food will keep passengers awake better?
Does it matter enough to get into the idea of stretching and other mobility needs on board being substantively different from those that passengers will face on the 17 hour flights? Or 14 hour flights? Where's the line drawn? The DVT risk remains real. The need for passengers to get up and move is important for blood circulation and digestion and even visiting the lav. Having the CEO and assembled media on board perform the Macarena in the economy class cabin while wearing Qantas pyjamas makes for great video, but how is that relevant to what passengers really need in terms of access to more space for movement on board?
There is very real research that should be going in to the planning of these flights, particularly with respect to crew alertness and performance. How do four pilots remain properly rested on a trip that long to be sufficiently alert while working in the front office? Ditto for the flight attendants who may need to react in case of an emergency. But even that should be able to build from the existing corpus of data and experiences that the existing ULH routes deliver. Make no mistake, however, that these test flights are in part about pushing the pilots' union towards accepting the even longer routes as a viable part of the business.
---
---
Operating the world's longest flight comes with a certain extra bit of prestige for an airline. There's an excitement about making that trip and the idea of just how much time passengers can save as a result. But that time savings comes with a different cost. Among other things, these very, very long flights require the aircraft to be flying gas tanks. The Qantas JFK-Sydney trip loaded 101,000kg of fuel for the ride, topping off the tanks. And that's not enough fuel to make the trip with a full load of passengers and cargo. The A350ULR and 777X options will carry – and burn – even more fuel.
As (most of) the global aviation community works to present a strong front in terms of reducing fuel burn per passenger-mile and generally making air travel more efficient, the idea of even more ultra long haul flights goes against that very goal. Which is not to say that a 19 hour flight should be replaced by nineteen one hour flights. That delivers an even worse environmental impact and dramatically slows the trip overall. But what would the total fuel burn be if there was an efficient and well located "pit stop" option along the way? Alas, saving that fuel burn comes at the expense of marketing a non-stop flight and the world's longest flight and all the other superlatives associated with the service.
There are also technical, political and economic challenges with a "pit stop" approach to the trip. US immigration policies might make Honolulu a no-go for the eastbound journey, while Hong Kong historically was too busy an operation to support an extra flight that doesn't bring passengers to or from Hong Kong. But the concept remains worth considering.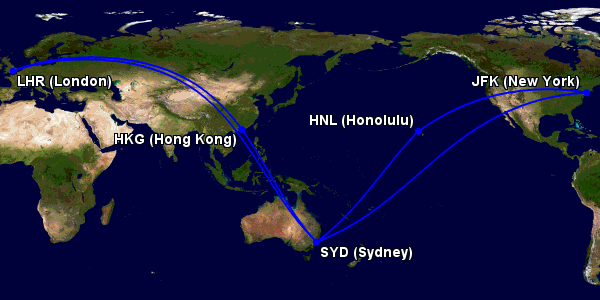 And Qantas is not alone on this front. Beyond the ULH segment is the ultra-fast travel segment. How much extra fuel will the new batch of supersonic aircraft burn (assuming they ever enter commercial service, which is very far from a sure thing)? And the idea of cheap, reusable rockets carrying humans around the globe faster than ever sure seems sexy to Elon Musk, but there are massive cost implications – financial and otherwise – that are not being considered and that would likely suggest far better options for investing that scientific and engineering talent, as well as the cash.
---
A favor to ask while you're here...
Did you enjoy the content? Or learn something useful? Or generally just think this is the type of story you'd like to see more of? Consider supporting the site through a donation (any amount helps). It helps keep me independent and avoiding the credit card schlock.
---