A couple years ago air service to Maine was fading. But last year it was a safe summer vacation destination for many amid the pandemic. This summer Portland sees a reward for that, with six new routes added from Midwest non-hub airports on United Airlines.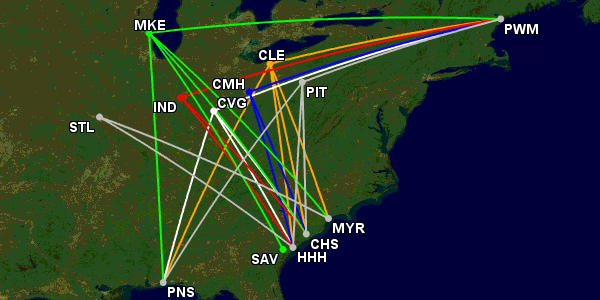 The Portland routes are part of 26 new markets targeting leisure travel from non-hubs for United this summer. The routes, aircraft choice and flight frequencies all represent a major pivot for the carrier
---
---
Flights will operate from Cleveland, Cincinnati, Columbus, Indianapolis, Milwaukee, St. Louis and Pittsburgh, generally three days per week. The seasonal service will run from Memorial Day to Labor Day, operated "mostly" on the CRJ-550. That aircraft offers 10 first class seats, 20 Economy Plus and 20 Economy. It also features in-flight wifi service and room for carry-on bags in the cabin rather than requiring a gate check. Milwaukee is the outlier, with its flights operated on the CRJ200 instead.
Operating point-to-point service that overflies the airline's hubs is a significant shift. "Focus city" operations have existed in the past for legacy network carriers; Delta Air Lines was most aggressive on this front, but recently scaled back. United experimented a bit with the option in Summer 2020 as the pandemic peaked and again over the winter with snowbird service to Florida. It works well enough that the carrier will continue as it awaits a recovery towards the more typical structure of hub services.
---
---
The choice of the CRJ-550 is also an interesting one. With just 50 seats it is a relatively low-risk addition to the routes. But when the type was announced just two years ago the focus was on the business traveler. Putting a first class cabin in to smaller regional routes was supposed to help funnel high-yield, premium cabin, international passengers into United's hubs. In 2021 the carrier now hopes it can help high-yield leisure passengers avoid its hubs and get directly to their summer vacation destination.
Finally, the choice to operate less than daily service on all the routes could be seen as a concession to the flight frequency choices of ultra low cost carriers such as Allegiant. Flying full planes just a couple days per week can prove very profitable, assuming the crew and aircraft utilization details are sorted.
A preemptive strike?
The markets targeted by United could also be seen in part as a preemptive play against new entrants. Breeze Airways is planning to launch service in the coming months and coastal South Carolina service to the Midwest was a significant component of the initial route plan. Recent rumblings suggest Charleston as a base for the new airline, with routes flying 2-3 times per week initially. It may arrive to find United Airlines already marketing flights on its key launch routes.
---
A favor to ask while you're here...
Did you enjoy the content? Or learn something useful? Or generally just think this is the type of story you'd like to see more of? Consider supporting the site through a donation (any amount helps). It helps keep me independent and avoiding the credit card schlock.
---